EasyJet cabin crew union calls off strike after reaching agreement with company
Base salary will be increased by 22% in three years after weeks of negotiations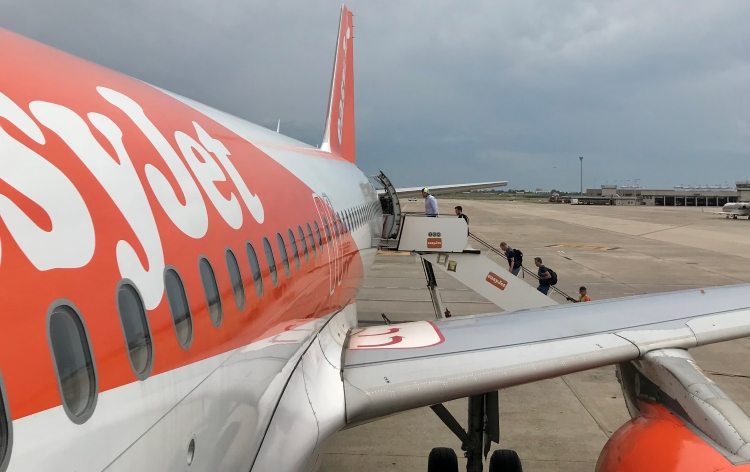 EasyJet cabin crew will not continue with the strike call for this weekend after the company and USO workers' union reached an agreement. The enterprise will increase its base salary by 22% in three years, as USO announced in a press release on Thursday afternoon.
With the deal, USO has called off the strike expected from July 29 to 31 after two previous weekends of protests.
The 74.6% of cabin crew have greenlighted the deal on Thursday that also expects to change working activity for those workers with indefinite but yearly limited contracts from 8 working months and four of inactivity to 9 and 3, respectively.
The company and the union have agreed to increase the base salary by 4% retrospectively since March 2022, by 13% in 2023, and by 5% in 2024. Overall, workers will see a 22% raise, a similar salary to other European coworkers.
The deal also expects economic compensation when working during a day off, increasing compensations for cabin crew members from January 2023, and a pay raise when speaking a third language.
The union now will continue discussions about working conditions, but those not related to finances, as they want "to have better working conditions," Miguel Galán, EasyJet's USO union secretary general, said.
Ryanair to continue strike until 2023
While EasyJet cabin crew has reached an agreement with the company, workers from Ryanair, also on strike, will continue their protests.
On Wednesday, the USO and SITCPLA unions called on workers to go on strike until January 7, 2023.
The new strike was called because "Ryanair has not shown any intention to approach unions' demands, but the opposite, as it has rejected any move to negotiate," a press release shared by the unions read.
There are three main reasons why they are continuing with the protests. Unions call for Ryanair to "follow minimum regulations under Spanish labor and unions law," rehire 11 workers who were "fired during the strikes from June and July because they stopped working as protected by their constitutional rights," and "put an end to ongoing sanctions to over 100 employees due to the strikes," the unions demanded.