Domestic workers in Spain now entitled to unemployment benefits
Government approves measure following EU court sex discrimination ruling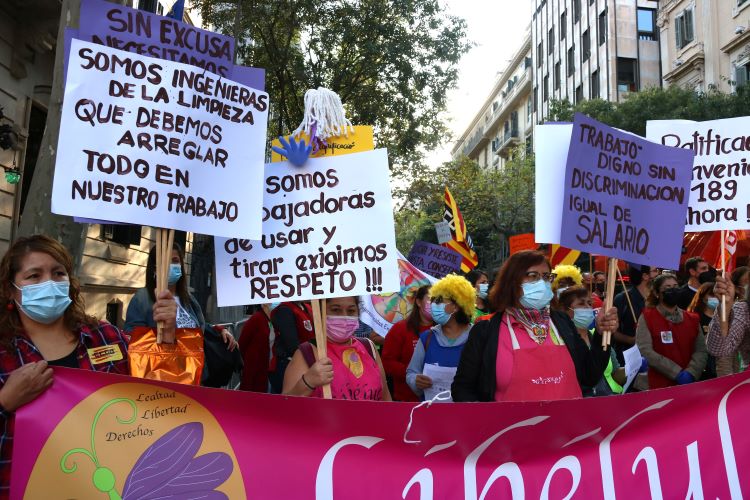 Domestic workers, the overwhelming majority of which are women, will finally be able to receive unemployment benefits after the Spanish government approved a measure in Tuesday's cabinet meeting to "fully protect their rights."
These workers will also be entitled to "all welfare benefits" like workers "of any other sector," second deputy prime minister and labor minister Yolanda Díaz explained, meaning the new policy will go beyond the minimum requirements established in the International Labor Organization's Convention on Domestic Workers.
Their salaries will be insured by FOGASA, the Spanish government fund for unpaid wages due to employer bankruptcy or insolvency, and from now on, it will be illegal to fire domestic workers for no reason. They will have the right to written contracts, occupational health and safety measures, and training.
Díaz stressed that these changes will protect households who employ these services - many of them at the behest of women in search of an improved work-life balance - too as they will receive tax breaks depending on their income level and assets.
EU court ruling
This new policy comes almost 9 months after the Court of Justice of the European Union ruled that Spanish labor law indirectly discriminated against the hundreds of thousands of domestic workers in the country because of their sex as most of them are women.
Spain's special social security scheme for domestic workers, approved in 2011, included monthly social security payments but did not guarantee the right to unemployment benefits.
This scheme made its way through the legal system after a woman in Vigo, Galicia, in north-western Spain, attempted to register for unemployment benefits in 2019 but saw her request rejected by Spain's Social Security Treasury offices. She then decided to sue with the support of her lawyer and her former employer.
An estimated 95% of these workers are female, while around 44% are from abroad, many of them from countries like Colombia, Honduras, and Romania, and around 80% are of an age that "makes it difficult for them to complete tasks."
Over half of them work under 60 hours per month, and although the Madrid area only accounts for 14% of Spain's population, just under a third of all domestic workers are employed there.