Deliveroo to cease operations in Spain at the end of November
Food delivery company announced in the summer they would leave the country as a response to the 'Rider Law' coming into effect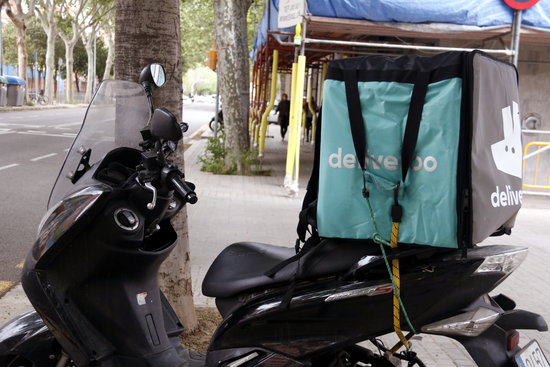 Food delivery company Deliveroo have announced that they will cease operations in all of Spain on November 29.
A statement explained that the company reached the decision after consulting with workers. The move will affect 3,871 workers across Spain, of which 897 are in Catalonia.
The spokesman for the company's 'adhoc' redundancy committee, Sergio Encinas, announced a compensation agreement of 45 days per year worked, with a minimum of €1,000.
The courier platform had announced at the end of July that they would cease activity in Spain as a response to the new 'Rider Law' coming into force.
"We want to thank all the riders and restaurants who have worked with Deliveroo in Spain, as well as our wonderful customers. The company is proud to have had some of the best restaurants in Spain as partners," the company said in a statement.
The company also thanked the "talent" and "commitment" of the employees.
What is the 'rider law'?
Essentially, the 'rider law' in Spain that came into effect in August says that delivery workers shall be considered employees of the company, rather than self-employed workers merely associated with the apps.
The law understands that the platforms organize, direct, and control the employment of the couriers through their apps and algorithms, and as such, the couriers are considered employees.
The law was passed in May and after the three-month moratorium offered by the Spanish government to help the companies in the sector adapt to the new regulations expires, companies such as Glovo, Uber Eats, and Stuart had to sign their delivery riders up with social security as official employees.
This way, the couriers will benefit from the rights given to salaried employees, including holidays, unemployment benefits, and breaks.
The law also establishes that the delivery companies must inform the works council about the algorithms that govern decisions to avoid biases, including courier ratings that can affect promotions or firings. It also allows for the algorithms to be studied to improve the use of artificial intelligence in labour relations.
The Spanish government describes the law as "pioneering" in the face of technological changes that are "unstoppable."