Dark kitchens in Barcelona to be restricted to Zona Franca industrial area
Restaurants and bars to request licenses to be able to make home deliveries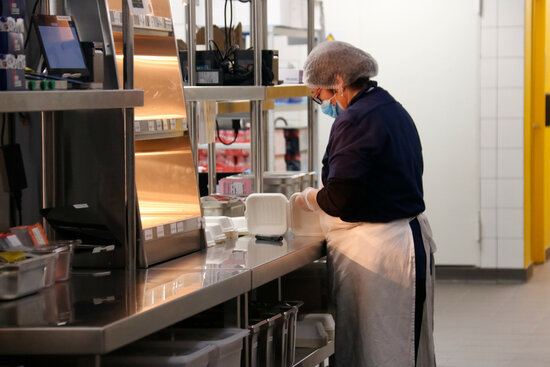 Barcelona plans new regulations to see dark kitchen businesses operate only from the Zona Franca industrial area. The new legislation is expected to be passed in the upcoming council debate.
After the law is enacted, ghost supermarkets will also be affected as they have to close or change their model. This will affect the 21 establishments currently in the Catalan capital.
Restaurants and bars will also be affected once the legislation takes effect. From then, they will have to request a license to make home deliveries, and larger establishments will have to have a pick-up collection point for couriers.
Licenses for dark kitchens have been suspended in the Catalan capital since March 2021 after the boom experienced because of the pandemic and the surge in demand. Currently, there are no establishments such as these in the city.
With the new regulation, dark kitchens can only open in the Zona Franca industrial area but with several restrictions. Officials only allow for one kitchen in a 400-meter radius, and they will have to have 10 square meters for couriers per every 100 square meters.
At first, authorities planned to allow dark kitchens in the Besòs industrial area and the Marina del Prat Vermell zone but was ruled out after its proximity to inhabited areas.
Regarding ghost supermarkets, the activity will be completely banned and current businesses will have to readapt or "close down," Barcelona's deputy mayor and councilor for urbanism Janet Sanz, said during a press conference.
The city council will investigate whether these 21 sites comply with the law.
Restaurants affected
The new legislation applies to dark kitchens, ghost supermarkets, and restaurants. From now on, those establishments interested in delivery will have to request for a license to be able to do it.
Officials confirmed the process would be easy, and businesses will have up to two months to do so.
However, they must confirm that at least 40% of their space is focused on public serving. This way, authorities believe dark kitchens will not be able to ask for restaurant licenses to continue their activity.
If restaurants make deliveries, they will have to allow couriers to access the establishment, including the bathrooms.
All these measures will significantly impact restaurants and bars, as the Barcelona restaurants association claims.
Businesses with more than 200 square meters will be forced to have a "waiting" area of ten square meters for couriers.
"Barcelona does not have a problem with couriers at establishments' doors," the association says in a statement released Friday.
"We are facing an absurd legislation that no one asked for and that the city does not need," Roger Pallarols, president of the association, said.
For the group, the new legislation will "fail."