Catalonia's GDP up 4.1% in third quarter on last year
Economy grows at same rate as Europe's and 1.4 points above that of Spain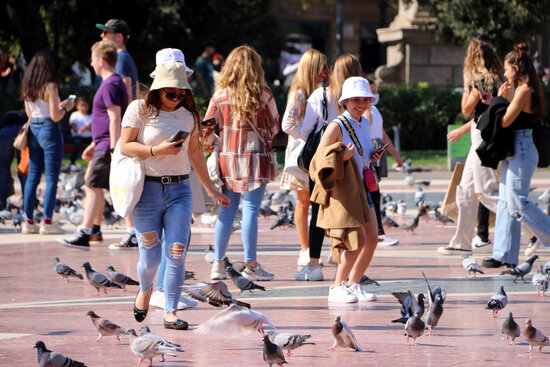 Catalonia's GDP has grown 4.1% in the third quarter compared to last year, according to figures released by Idescat on Monday.
The pace of growth is 0.7 points higher than expected when, in November, the same statistics institute released its provisional figures for the period between June and September.
The performance of the Catalan economy in the past 12 months has been the same as that of the EU, 4.1%, and 1.4 points above Spain's average, at an estimated 2.7%.
Yet, compared to the second quarter, at 1.3% Catalonia's growth has been significantly lower than in Spain (2%) and the EU (2.1%).
Tourism contributes to growth
Tourism is one of the main contributors to the figures, as the expenditure of international visitors in summer increased by 37.8% compared to the previous year.
Indeed, €41.2 billion out of the €60.9 billion that made up Catalonia's GDP in the third quarter came from the service sector – with €12.7 billion coming from trade, transport and the hospitality industry, 12% more than in June to September 2020.
Agriculture (3.2%) and industry (2.7%) have also registered significant year-on-year growth, with construction (0.5%) roughly the same.
Exports experienced a 10% increase compared to one year before, and sales of equipment went up by 14.2%.
Catalonia continues to recover from the slump of the pandemic, which saw the economy register five consecutive quarters with year-on-year GDP decreases.
The second term of 2021 saw a change in the trend, with an 18.3% surge on the previous year – yet, pre-pandemic levels have not been matched yet.
In the third quarter of 2019, Catalonia's economy was worth €62.8 billion, €1.9 billion more than in 2021.