Catalan exports grow 22.9% year-on-year in January to €7.77bn
Sales abroad continue to grow after Covid-19 pandemic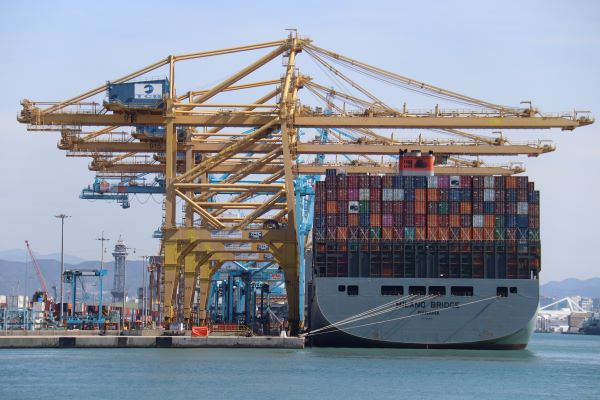 Catalan sales abroad continued to grow during the first month of 2023, when companies exported 22.9% more compared to January 2022, as announced on Thursday by Spain's industry ministry.
Chemical products once again made up the largest bulk of Catalonia's exports, 29.8% of the total and worth €2.315bn, 7.9% more than a year prior. These were followed by equipment goods (15.3% of the total, worth €1.191bn, 26.2% more than a year earlier), and food products, beverages, and tobacco (14.3% of the total, worth €1.109bn, 22.1% more than January 2022).
In Catalonia, only the southern area of Tarragona started the year with fewer sales abroad compared to the same month last year, dropping 0.9% to €820.9m.
Sales abroad grew by 27.5% in the Barcelona area to €6.165m and were up 8.6% in Girona to €590.2m and 15.9% in Lleida to €197.4m.
Chemical products and equipment goods were the biggest sellers in the Barcelona area, while energy products were more important in Tarragona and food products were in Lleida and Girona.
Regarding imports, these increased by 17.9%, reaching €9.24 billion.
A quarter of Spain's exports from Catalonia
Overall in Spain, exports during January 2023 amounted to €30.92 billion, a 16.2% increase compared to the same period last year.
Slightly over a quarter of these sales abroad, 25.1%, were from Catalonia, more than anywhere else in Spain. 15.1% of exports were from Madrid, while 11% were from the Valencia region and 10.4% were from Andalusia.
More than half of all Spanish exports, 56.3%, went to Eurozone countries, while another 8.7% went to non-Eurozone EU countries, 10.6% to other parts of Europe, 10.2% to the Americas, 7% to Asia, and 5% to Africa.