Caixabank profits fall by 52.1% for first half of 2019, earning €622 million
Banc Sabadell earns €532 million so far this year, a rise of 341%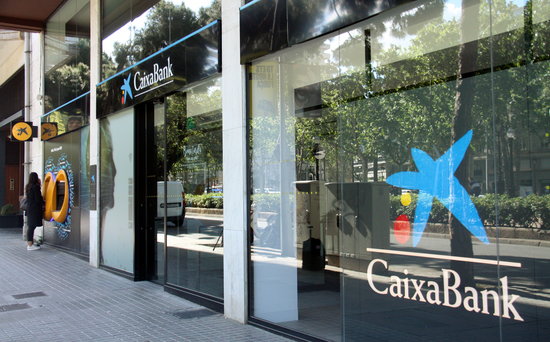 Caixabank earned €622 million in the first half of 2019, 52.1% less than in the same period last year due to the impact of laying off 2,023 employees, according to reports released this Friday.
The report also details that were it not for the layoffs, the bank would have seen profits of €1.3 billion - 0.7% more than in 2018 (€1.29 billion) - for the first six months of the year.
On the other hand, the entity exceeded €600 billion in turnover for the first time, an increase of 4.9%, and the resources increased to €380 billion, 6.2% more year-on-year.
The first quarter's interest margin rose to €2.7 billion, an increase of 1.9% compared to the first six months of last year. In relation to the previous quarter, the evolution was 1.5% due to the increase in commissions and income for insurance contracts.
Commissions revenue stood at €1.25 billion, 3.5% less than in the same period of 2019. In this sense, banking commissions, securities, and others rose to €719 million, 3% less, due to the decline in singular banking investment transactions.
On the other hand, during the second quarter, Caixabank has completed its stake in Repsol and has earmarked €104 million for the dividends from Telefonica and €46 million gross for the Angolan BFA bank.
Banc Sabadell
Elsewhere, Banc Sabadell announced that it made a profit of €532 million for the first half of this year, a figure that represents an increase of 340.9% over the same period last year when the profits were €121 million. This increase is explained by there being no extra costs for the acquisition of British TSB bank.
Total expenses stood at €1.567 billion by the end of June 2019 (€1 billion without TSB,) compared to €1.656 billion at the end of the previous year (€1 billion excluding TSB), a drop of 5,4%.
The lending rate closed the second quarter of 2019 with a year-on-year increase of seven points, which represents a balance of €141 billion.
Both banks are Catalan in origin, but following the 2017 independence push and ensuing political uncertainty, both moved their headquarters outside Catalonia days after the referendum.