BBVA and Sabadell banks in merger talks to create Spain's second largest lender
Resulting banking group would have assets of €600bn, close to that of CaixaBank and Bankia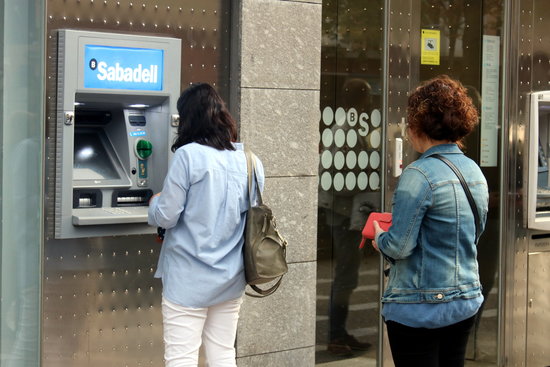 BBVA has confirmed that it is in talks with Banc Sabadell to negotiate a merger between the two financial institutions, potentially creating the second largest lender in Spain.
In a statement sent to the National Securities Market Commission (CNMV) on Monday, BBVA said that they have begun the due diligence process of reviewing assets and have appointed external advisers to evaluate the operation.
Banc Sabadell also sent a statement to the CNMV on Monday. Both banks stated that "no decision has been taken in relation to a potential merger operation" and that "there is no certainty that it will be adopted".
Earlier on Monday, online publication 'El Confidencial' revealed that BBVA had contracted the services of US investment bank JP Morgan, was taking legal advice from the law firm Garrigues and was considering hiring one of the so-called Big Four consulting firms to carry out an asset review ahead of the potential purchase.
The news comes on the same day as the bank, which has headquarters in the Basque city of Bilbao as well as in Madrid, announced the sale of its US subsidiary to PNC for €9.7 billion.
Although the CEO of Banc Sabadell, Jaume Guardiola, has repeatedly stated that his company's intention is to "walk alone", last September they hired the investment bank Goldman Sachs to study strategic options. Furthermore, during the latest presentation of results, Guardiola did not rule out a merger, saying that the entity would be "open to those opportunities that create value for the shareholder."
The Catalan bank was founded in Sabadell in 1881, but moved its headquarters to Alicante (Alacant in Catalan) during the 2017 independence push, reportedly under pressure from the Spain's conservative government of the time.
Second major banking shake-up
In September, Catalonia's other leading bank, Caixabank, announced its intention to proceed with the acquisition of state-owned lender Bankia, which will create the largest financial institution in Spain with around €650 billion in assets.
If the merger between BBVA and Banc Sabadell goes ahead, the resulting entity will be the second largest, with joint assets of approximately €600 billion.