Barcelona-Tokyo flight a priority, say Catalan and Japanese officials
Foreign minister and consul express their wish for a direct link between the two capitals, and stress close business and cultural ties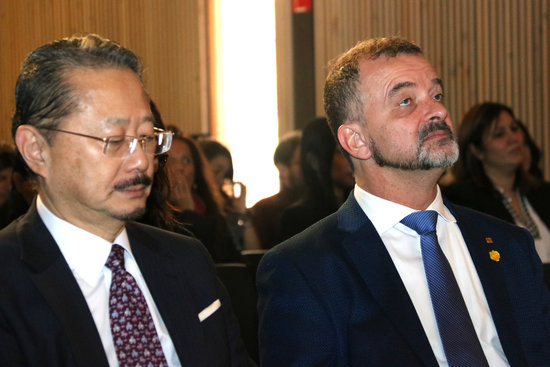 Establishing a direct flight between Barcelona and Tokyo is a priority of the Catalan and Japanese authorities as part of their cooperation plans for the next few years.
Foreign minister, Alfred Bosch, and Japan's consul in Barcelona, Naohito Watanabe, expressed their wish for a direct flight between the capitals on Tuesday.
According to Bosch, the option of launching a direct flight between the cities "will be reviewed next year," while Watanabe also said the possibility "is being studied."
Some 300,000 visitors from Japan came to Catalonia in 2018, and Bosch said he believed a direct flight would have a positive effect on Japanese tourism.
Watanabe also praised commercial ties, stressing how the removal of trade tariffs had benefited Catalan food and drink exports, and Japanese vehicle exports to Catalonia.
The Catalan foreign department says that Catalonia attracts 55% of investment in Spain from Japan, making it the country with the largest concentration of investment in Catalonia.
Meanwhile, the consul also highlighted the "boom in Japanese culture" in Catalonia, particularly in food, pop culture, and "Japanese literature, cinema, and language."