Barcelona freezes 2021 public transport fares
Authority in charge of tickets experiences losses after drop in passengers during pandemic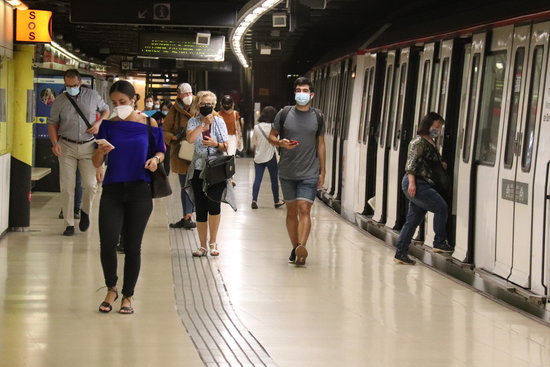 Public transport fares in the Barcelona area will be frozen in 2021, as was announced by the Metropolitan Transport Authority (ATM) on Monday.
The institution's board of directors also agreed to extend the expiry date of the tickets sold this year to December 31, 2021.
The new tickets introduced this year in a major revamp aimed at benefitting frequent travelers, the T-Usual and the T-Casual, will continue in existence next year.
Yet, the pandemic has altered forecasts made by the ATM a year ago, and so far, demand for the entire public transport network is equal to 54% of the value registered prior to Covid-19.
In 2021, demand is expected to be between 68% and 80% of sales before the pandemic.
A single one-zone ticket will still cost €2.40; a T-Casual, €11.35; a T-Usual, €40; a T-Jove, €80; a T-Dia, €10.50; a T-Familiar, €10; and a T-Grup, €79.45.
Single-parent and large families will still have to pay €32 for a T-Usual, €64 for a T-Jove, and €63.55 for a T-70/90.
Public transport authority losses
The drop in the number of underground, tram, train, and bus passengers during the pandemic has meant a staggering €750 million in overall losses for the Barcelona area public transport.
ATM estimates it will experience €442 million in losses in 2020 and another €308 million in 2021.
While the institution expects to receive €215 million in compensation, it has requested to receive more from the Spanish government to avoid a "very complicated" financial situation.