Barcelona airport passengers up by 7.8% in November
Infrastructure could end its year with over 50 million users for first time, with Girona at 2 million and Reus at 1 million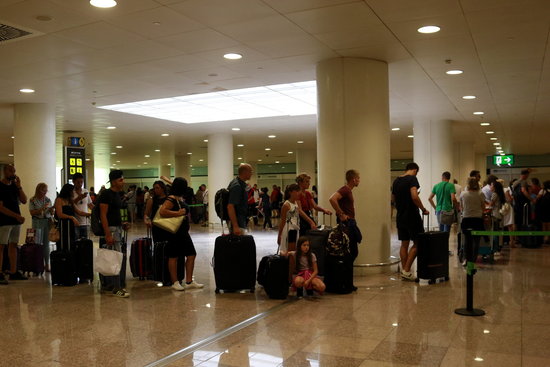 The passengers going through Barcelona airport are still on the rise. Those using the infrastructure were up by 7.8% in November, reaching 3.44 million.
So far in 2018, 46.6 million passengers have departed or landed in Barcelona, an all-time high, and the infrastructure could be on the verge of 50 million users - or even of exceeding this mark, for the first time in history.
International flights are the ones leading this trend, with a 9.1% rise in November compared to the same month last year.
Barcelona, sixth most used airport in the EU
Barcelona hosts the sixth most used airport in the EU, according to figures released by Eurostat statistics office last week – preceded by Heathrow (London), Charles de Gaulle (Paris), Schiphol (Amsterdam), Frankfurt, and Barajas (Madrid).
That means one step higher than in 2017 for this ranking, after having outnumbered Gatwick (London).
November was also when the Barcelona-Abu Dhabi route kicked off, which the Catalan territory minister called "an opportunity" for the country's economy.
Girona and Reus airports on the rise in 2018
Meanwhile, Girona airport struggled in November as its passengers fell by 16.9% compared to the twelve months earlier.
But so far in the year the trend is upwards, with a 4.1% rise and 1.98 million passengers – it is expected that to reach the 2 million mark – still far from its 5.5 million high in 2008.
Reus airport, meanwhile, increased its users by 20% in November and is slightly more used than it was last year (2.1%, at 1.03 million).