Barcelona airport handled 5.1 million passengers in August
Users increased by 4.2% during peak holiday month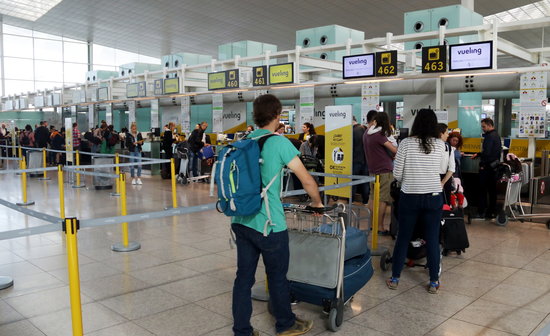 Up to 5.1 million passengers traveled to or from Barcelona airport in August, according to official figures released on Wednesday.
It is a 4.2% increase in comparison to the same month last year. People traveling on international flights grew by almost 4%, while those on domestic flights grew by 4.7%.
Between January and August, the Catalan capital's airport handled 33.8 million passengers, up by 5.5%.
Despite the positive passenger figures, the Barcelona-El Prat airport had one of the worst punctuality records this summer.
According to the Flightstats website, almost half of flights (45.8%) taking off or landing at Barcelona's airport were delayed by more than 15 minutes over June, July and August.
The numbers are worse than those for the summer of 2017, when delays affected 37% of flights in July and 34% in August.
Barcelona handled an average of around 15,000 flights in each of the three summer months.
The average time that passengers had to wait for their planes was 55 minutes during this period.