'€10 million' hit to Catalan tourism due to Thomas Cook insolvency
The British tour operator was forced to cancel 42 flights in Catalonia in the coming days, affecting thousands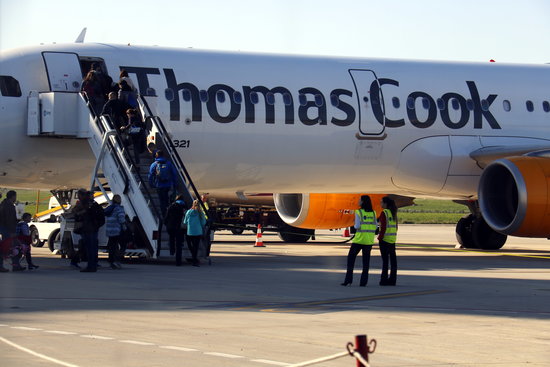 British airliner and tour operator Thomas Cook has entered insolvency and has ceased trading with immediate effect, leaving hundreds of thousands of holidaymakers stranded worldwide.
The effects have also been felt in Catalonia, with the government estimating a hit to the tourism industry of "at least €10 million." Spain's airport management company Aena confirming 42 flights to or from Catalan airports have been cancelled.
Thomas Cook also organized accommodation and transport for passengers as well as flights, and had agreements with dozens of hotels and other tourism companies across the northern Costa Brava and southern Costa Daurada.
Of the cancelled flights, 28 were landing in or departing from Reus, while 14 were coming or leaving from Girona. The cancellations, the government predicts, will affect around 5,000 passengers. Thomas Cook did not operate in Barcelona airport.
The majority of the passengers affected in Catalonia come from the United Kingdom, Netherlands, and Belgium, and most have already made rearranged travel plans.
Passengers left stranded away from home have been encouraged to contact the company who will arrange alternative flights home, "as close as possible" to the time and day of their original booking, the company say.
Those with flights to or from Girona airport can find details of alternative plans here, while passengers with journeys via Reus can find their relevant information here.
In total, Thomas Cook brought around 80,000 tourists to Catalonia each year.
Alguaire airport
The insolvent tour operator brought a lot of winter tourists to the airport of Alguaire in Lleida, with many people skiing in mountainous regions of the country.
However, secretary for mobility and infrastructure in the Catalan government, Isidre Gavín, explained to the news agency Efe that Thomas Cook was a provider for the company Neilson, and therefore Neilson will likely be able to find another group to carry out the services required in time.
The winter season for tourism in the area has not yet begun, giving Neilson time to find another operator so they may go ahead with offering holidaymakers their journeys.