Comeback to Barcelona council and keeping strong in inland areas: far-left CUP's top priorities
Making services public, affordable housing, standing against racism, cruise ships and mass tourism, among talking points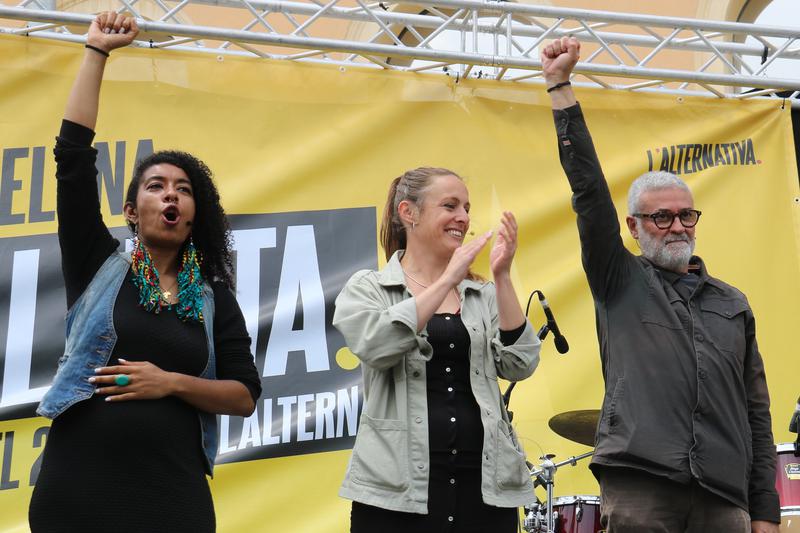 Far-left CUP ran in the Catalan election for the first time in 2012, after an intense internal debate: they had never participated in a parliamentary vote because they were (and still are) a party totally focused on local communities and on grassroots local activism.
The anticapitalists were already running in the local elections in the 1990s, therefore the May 28 vote is a priority for them in order to keep representatives across the country.
One of their top aims is to return to the Barcelona local council, where they only had members in the 2015 to 2019 term.
The 5% threshold of votes needed to be granted councilors is once more their main obstacle – while they were able to clear it in 2015 with 7.4% of the vote, they fell short four years ago at 3.8%.
Their number one candidate in the capital is Basha Changue, an MP in the Catalan parliament and an afrofeminist activist.
Make public services public again, less tourism and high-profile events
Her main talking points include making some basic services, like water, public again.
She also stands against racism, and cruise ships. "We propose an eco-tax for cruise ships, which have such a big impact emitting greenhouse gases," she recently said during an event at the city port where CUP members hung a poster reading 'Enough cruises.' "This money should be allocated to residents who are affected by the tourism industry policies against climate change."
Their top arguments also include advocating for less tourism and world-class high-profile events, which, according to them, contribute to gentrification and to rent increases.
Indeed, the issue of the housing crisis and the lack of affordable homes for all is a matter of big concern for CUP, not only in Barcelona, but also elsewhere.
For instance, in the Pyrenees, in towns popular with tourists and places with a significant number of second homes belonging to Barcelona residents, prices have also skyrocketed. Have a listen to our recent podcast about the debate on the impact of skiing in the Catalan mountains.
In the same area, the effects of being close to the wealthy Pyrenean microstate of Andorra are important for the party.
"We see that in Andorra, the price of housing is very high, and those who work in Andorra cannot afford it. They have higher salaries than us, so they settle in La Seu d'Urgell, which becomes a dormitory town that expels local residents," CUP's mayoral candidate in La Seu d'Urgell, Bernat Lavaquiol, said recently. Last year he was one of the spokespeople of the campaign against the failed 2030 Winter Olympic bid.
Inland Catalonia, Girona, Berga, key for CUP
Housing is also a talking point in central Catalonia. "We think housing is the top political problem in Igualada, because the current government has not done anything to put the empty flats to use," said the far-left candidate in Igualada, central Catalonia.
In this town they aim to at least keep their two current representatives, but it is in Girona where they want to do especially well.
The capital of the north saw CUP coming second for the first time in 2019, with 6 councilors, edging ahead of the Socialists.
Also, Berga, near the Pyrenees in central Catalonia, is the only county capital where they have the mayoral post – indeed, they have been governing since 2015 and they want to keep going through 2027.