Arrels Foundation transforms Barcelona mayor candidates into homeless people to raise awareness
Only 32% of people living on streets allowed to vote in local elections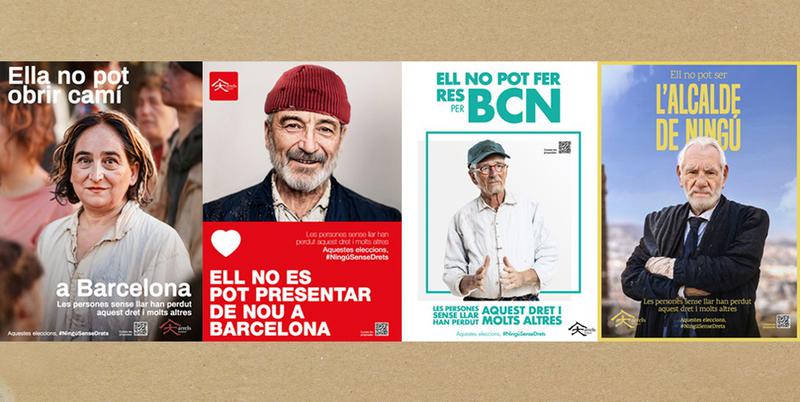 Barcelona's Arrels Foundation, focused on helping homeless people, has transformed the four main candidates to be the next city's mayor into people living on the streets to raise awareness.
Only 32% of these people are allowed to vote in the local elections, and the foundation wants to highlight the issue with the 'Ningú sense drets' (no one without rights) campaign.
The idea is to prove how "a person living on the streets can mark a change in the electoral campaign," the foundation said.
To do so, Arrels modified the appearance of the candidates with the most votes using artificial intelligence: Ernest Maragall (Esquerra Republicana), Ada Colau (Barcelona en Comú), Jaume Collboni (Socialists), and Xavier Trias (Trias per Barcelona).
Homeless people need "new politics to fight against homelessness in the city," which is why Arrels Foundation is "making visible" the reality as some of these people "cannot run for mayor, cannot make any proposals or take part in society, and a lot of the times, do not even have the right to vote."
Over 3,000 homeless people
During 2022, the Arrels Foundation helped a total of 3,062 homeless people in the city of Barcelona, 22% more than the previous year, according to the group's data released in early January. 87% were men and 13% were women.
The figure includes all homeless people attended to by the foundation, either by visiting them directly on the streets, because they have accessed the drop-in center to ask for guidance or to make use of basic services, or because they live in one of the group's accommodation centers.
For 45% of those assisted, 2022 was the first time having contact with the foundation.
The organization visited 955 people on the streets. The drop-in center was used by around 2,400 people who needed a place to shelter during the day, or to make use of basic services or receive advice. This represents 29% more people than during the previous year.