Jawbone in Banyoles may be Homo sapiens' earliest fossil found in Europe
New international research rules out mandible first discovered in 1887 being from Neanderthal as always believed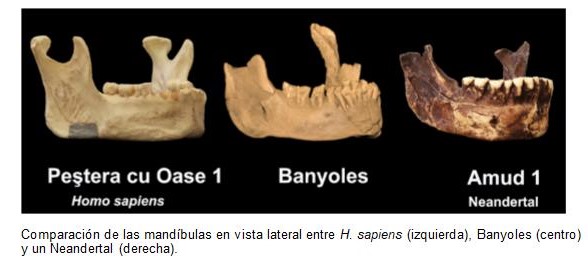 A jawbone in Banyoles, in northeastern Catalonia, may be the earliest fossil from a homo sapiens found in Europe to date.
The piece was first discovered in 1887 and has always been stored at the town's Alsius pharmacy by the same family.
While it has always been believed to be part of a Neanderthal, new research published by 'Journal of Human Evolution' refutes this theory for the first time and says their morphometric analysis shows "no derived Neanderthal morphological features."
Indeed, a 3D analysis by an international team of researchers found out that the mandible was "clearly" from a Homo sapiens.
Yet, scientists do not take it for granted although "the lack of chin structures" in the fossil are likely primitive expressions for Homo – they say that the specimen may have also been a mix between Neanderthal and our species.
The fossil dates back 45,000 to 66,000 years, in which it was buried until accidentally discovered 135 years ago during limestone quarrying operations by Llorenç Roura.
The paper published in the scientific journal focused on human evolution is signed by Anthropology professors at New York's Binghamton University Brian A. Keeling and Rolf Quam; researcher Ignacio Martínez at Alcalá University, in Madrid; Juan Luis Arsuaga, from Madrid's Complutense University; and Julià Maroto, member of Archeology and Prehistory group at the University of Girona.
40- to 50-year-old woman with dental wear
This is just the latest of a long series of works to ascertain the mystery behind the jawbone. According to Banyoles' Archeological Museum, this is "one of the most studied" pieces of human remains in the whole Iberian Peninsula.
The international consensus for the jawbone remains with the gender and age of the fossil, thought to be from a woman between 40 and 50 years of age whose "severe dental wear" may have been the result of an "abrasive dried fish diet" or "from habitual toothpick use."
'The lack of Neanderthal features is surprising'
The age range for the Banyoles jawbone "broadly corresponds to when Neanderthals were present throughout Europe," says the new research. "Thus, the lack of Neanderthal features in Banyoles is surprising," they add, saying traces of Homo sapiens have never been found in Europe in the same age range.
"The present situation makes Banyoles a prime candidate for ancient DNA or proteomic analyses, which may shed additional light on its taxonomic affinities," they conclude.
One of the authors of the research, Ignacio Martínez, says that if the Banyoles jawbone "is the crossroads between Homo sapiens and Neanderthals, this would be the oldest evidence of the presence of our species in Europe.