Holograms and interactive displays: ISE trade show kicks off in Barcelona
First full edition of audiovisual fair has already seen over 50,000 registered attendees and expects €215m of economic impact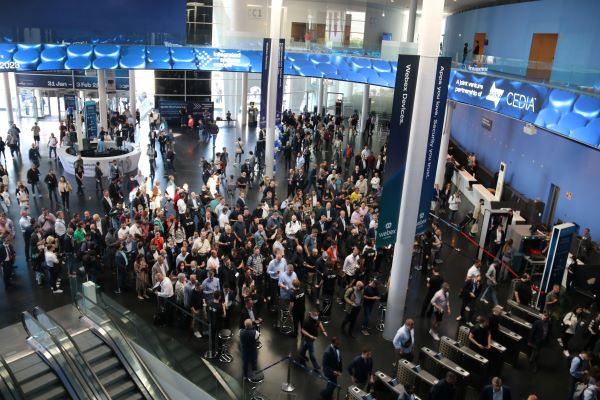 The world's largest audiovisual trade fair, Integrated Systems Europe (ISE), got going on Tuesday for the first time in full for 27 months due to pandemic-related disruptions.
The fair gives audiovisual and tech companies the opportunity to showcase their new products and services, as well as the opportunity for networking.
Visitors are greeted at the entrance by a holographic image of the event's managing director, Mike Blackman.
From there, they enter the main thoroughfare through the venue, where companies ranging from some of the world's most recognizable brands, such as Microsoft and Google, to startups hoping to get their feet off the ground, showcase the latest in audiovisual technology, such as virtual meeting rooms, laser displays, immersive experiences and even a lego city.
These impressive displays are not just to grab the attention of passers-by, however, as many of the interactive stands aim to create products that enhance the experiences of those who attend museums, concerts, shops, as well as students in school.
This is the case with LG, whose director of business solutions for Spain, Guillermo Calvo, told the Catalan News Agency "obviously, the consumer is more and more skilled and used to using technology, especially tactile technology, which allow us to be more immersive in what we want to communicate".
It is also a chance for businesses to connect and create new relationships, such as CCS Media, whose representative Rob Nice said that there are "plenty of our strategic vendors" at the fair over the course of the week, thus it is a "big event for us to make sure that we're looking at the latest emerging technologies".
Attendees were delighted to be back to normal at the fair after 27 months. This was the case with Dr Bettina Horster, a German at ISE representing Vivai AG, who highlighted that it is "so important after the pandemic or in the midst of the pandemic that we can meet again".
The show used to call Amsterdam home, but has since moved to the Fira Gran Via convention center in L'Hospitalet de Llobregat, and although it did host 2021's edition, its size was greatly reduced due to the pandemic. However, this year it is back to its pre-pandemic format, and runs from May 10 to 13.
The site, which has already played host to two other major trade shows this year, Mobile World Congress and Alimentaria, will host 800 exhibitors across 5 halls.
Although organizers originally saw around 28,000 pre-registered attendees and more than €200m of economic impact, this has since been increased to 50,000 attendees and over €215m.
The show is divided into various tech zones reflecting market trends: education technology, multi-technology, IoT solutions, audio, digital signage and digital out-of-home media.
While there are people from 120 countries participating in the event, including some 150 speakers, there is a noticeable lack of Chinese companies, as they have been forced to drop out due to the Covid-19 surge and subsequent mobility restrictions in the country.
Russian companies are also absent, although this is because they are not allowed to attend, but Russian nationals who live and work abroad will be welcome. "We are very sorry for the situation Ukrainians are faced with, but at the same time, we're also sorry for Russians who are against the war," ISE managing director Mike Blackman said on April 21.
Catalonia and Barcelona stands
Both the Barcelona council and the Catalan government's ACCIÓ trade and investment agency have stands at the fair both, located in hall 4, promoting audiovisual companies from the territory.
Some 30 companies will be in the Catalonia pavilion to, in the words of ACCIÓ, "find investors, meet partners and new customers, gain visibility and open up to new international markets."
One of the Catalan companies present was Onionlab, which produces audiovisual installations and exhibitions. Jordi Lab, a representative, explained their impressive attraction to Catalan News, presenting "an artistic piece with an LED cube [creating a 360º experience]", adding that he hoped "the people that attend ISE enjoy it".
ACCIÓ has also organized 100 networking meetings for big companies, start-ups, and tech providers from 40 countries. Sony, Mediapro, Filmin, Cellnex and CCMA will all be participating in these.
The Barcelona council stand is promoting local companies, universities, and schools, with 10 companies showcasing their blockchain and NFT solutions.
IOT Solutions World Congress
Between Tuesday and Thursday, the Internet of Things (technologies that connect and exchange data with other devices and systems over the internet) has its own IoT Solutions World Congress on the transformation of disruptive technologies, taking place in Hall 4 with 310 exhibitors and around 200 speakers.
The third edition of the Barcelona Cybersecurity Congress, organized by Catalonia's Cybersecurity Agency, will also take place here.