First fully eco-electric port ship in Europe built in Catalonia
Boat presented in Vilanova i la Geltrú is designed for port uses and can transport up to 12 workers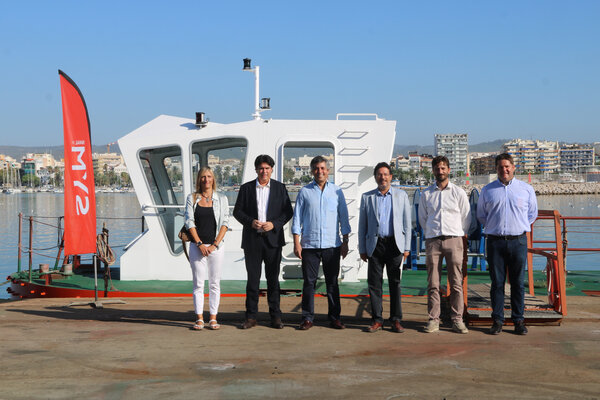 The company Sym Naval presented Europe's first fully electric and zero-emission ship for port use on Tuesday at the port of Vilanova i la Geltrú, south of Barcelona.
The company's CEO, Francisco Lage, said that the boat, called E-Ship, is a pioneering and unique vessel. According to Lage, the building process – which took 3 years to complete – was very challenging since the team did not have a direct referent or model.
Although the one presented on Tuesday is the first manufactured unit, Sym Naval's CEO said that some international companies are already interested in acquiring an E-ship. He is convinced that the orders will multiply, once people see that the technology "works perfectly."
"When it starts to sail, Sym Naval and Vilanova i la Geltrú will be on the map as a world reference for electric harbor ships," he said during the presentation.
A new unit to be completed by the end of September has been already acquired by a ship owner from the port of Castelló, a major town in the Valencia region, south of Catalonia.
According to the Catalan Secretary of Mobility and Logistics, Isidre Gavín, this project responds to the government's commitment to decarbonization and innovation. He also called on "brave" companies to put forward similar projects with administrations' support.
E-ship anatomy
The ship will transport workers and materials subject to very demanding regulations, said Lage. Overall, it is designed to carry out towing, mooring tasks, and liquid waste collection. The steel vessel is 12 meters long and has an operational autonomy of eight hours. It also has electric batteries installed which can be easily recharged in the ports where it operates.
Sym Naval, naval industry 4.0
The local naval engineering company Sym Naval specializes in the construction of ships for port use, support and transport services. It is the only company that builds steel ships on the western Mediterranean coast. In addition to the innovation and ship manufacturing center in the Vilanova i la Geltrú port, inaugurated in 2016, it also has technical assistance facilities in the Dominican Republic.