Catalan firm unveils high-precision surgical robot
Rob Surgical's 'Bitrack' has been in development for seven years and will cost less than existing equivalents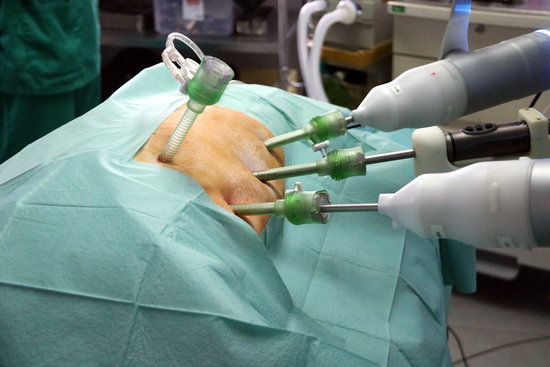 'Bitrack' is the name of a new robot for use in high-precision surgical operations that has been developed by a company in Prat de Llobregat, just outside Barcelona.
The Rob Surgical firm showed off its robot on Wednesday, the result of seven years of development that is now in its final stages, with 'Bitrack' due to go on the market in 2021.
The robot does the same high-precision tasks as the 'Da Vinci' robot, which was developed in the United States, and which currently has a 98% share of the international market.
However, Rob Surgical claims that its 'Bitrack' robot not only does the same tasks as 'Da Vinci', but adds usability and does so for less cost.
A spin-off from UPC and IBEC
Rob Surgical was set up in 2012 as a spin-off from the Polytechnic University of Catalonia (UPC) and the Institute for Bioengineering of Catalonia (IBEC).
The patent for the robot's technology was patented in 2008 by researchers Josep Amat, Alicia Casals and Manel Frigola, who set up the business with manager, Jaume Amat.
In the seven years the robot has been in development, the firm has attracted some eight million euros from private investors and another million in public funding.
The latest investment of five million euros came from the Grifols family, who own the Grifols pharmaceutical firm, with the funds to go to obtaining European certification.
Testing by US and Catalan surgeons
'Bitrack' has so far passed its technical validation and is now being tested on animal models by surgeons from the US and three Catalan university hospitals.
Over the next year, Rob Surgical will build three more units to complete the validation and testing processes, as well as strengthening its corporate and engineering staff.
The company says that 'Bitrack' improves on existing surgical robots and that its more affordable price will make it more accessible for hospitals around the world.