Catalan creations at MWC: robotics, cry-deciphering AI, and 3D-printer-made footwear
Over 330 local companies are showcasing their latest inventions this week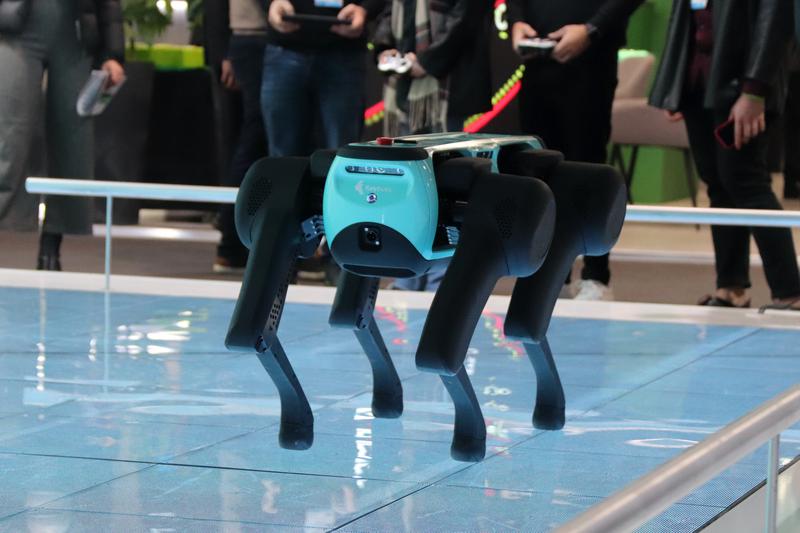 This year at the Mobile World Congress there are more Catalan companies than ever, over 330.
Not all of these companies, of which just under a third have received backing from the government's Trade & Investment Agency, are directly related to the telecommunications industry - in fact, a considerable number of them actually seem to have adopted the mantra that "robots are the future."
Gas-leak-detecting robot
One of these is Keybotic, which was founded in Barcelona in 2020 only three years ago at the height of the pandemic. The company can be found at one of the stands at the Catalonia pavilion, proudly displaying a robotic dog that can detect gas leaks in industrial settings.
"What we have is a completely autonomous robot," Keybotic's Irene Gómez told the Catalan News Agency (ACN). "Robots that currently exist are all remote-controlled, which is great because they are fun, but they should be doing real work for industry," she argued.
Robot to assist the elderly
Another novelty on display at the Catalonia pavilion is the NHoa, or the Never Home Alone, a robot made by the Eurecat tech center to assist the elderly, especially those who live alone.
"Having a robot at home can ease loneliness and support with daily chores," Felip Miralles of Eurecat said. According to him, it can also "promote healthy habits and help with physical and cognitive rehabilitation."
AI software and 3D printers
Robots, of course, are far from the only Catalan creations at this year's edition of the trade show. Local companies at MWC's 4YFN side event for startups, for one, have been showcasing their latest inventions, from AI software to decipher an infant's cries to 3D printers that make climbing shoes.
Sandra Pusil, a neuroscientist who works for Barcelona-based Zoundream, explains that their software uses AI to find out why babies are upset. The company hopes this technology will one day be able to be used to detect disorders earlier on.
"What it does is very simple: the baby cries, the software detects this, and it translates it in more or less 15 seconds," she said. "It can tell you if your baby is hungry, tired, or is in pain, for example."
Meanwhile, Emili Taixés of Athos, a company that uses 3D printers to make special footwear for climbers, argued these were an asset for those who take the sport seriously as conventional shoes that are not adapted to the individual can "be painful and lead to injuries."
"There is a great need for adaptability with this type of footwear because it is very technical and it is worn snug against the foot," he explained.
The MWC has once again proven to be the biggest meeting point for the world's most important tech innovators, attracting giants like Huawei, Samsung or Microsoft and over 2,000 other exhibitors from all over the world.
But it is, of course, also a magnet for Catalonia's home-grown tech talent, making the event the place to be this week for anyone in the industry.