Catalan Covid-19 vaccine Hipra generates more antibodies than Pfizer jab
Drugmaker to test booster shot with 270 volunteers previously administered AstraZeneca dose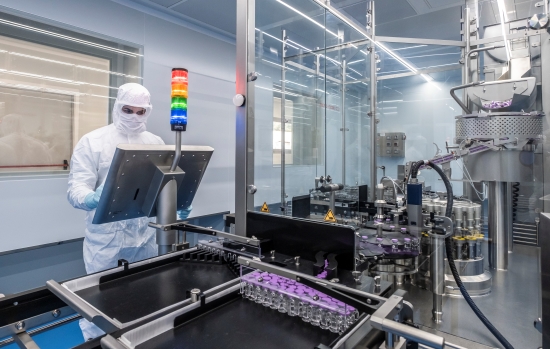 The Catalan Covid-19 vaccine Hipra generates more antibodies than other vaccines already approved, such as Pfizer's shot against coronavirus. These are the preliminary results of the first phase of a clinical trial involving 700 people in 10 different Spanish hospitals. The vaccine, however, is only used as a booster shot.
The drug multiplied the number of antibodies by 147, 14 days after receiving the third dose of the vaccine, if they were given the jab six weeks after the second shot, as data shared by the Spanish La Vanguardia newspaper and confirmed by the Catalan News Agency (ACN).
Meanwhile, the booster shot from Pfizer-BioNTech manufacturer multiplies by 67 the number of antibodies. The first results also confirmed that side effects have been milder for those receiving the Catalan vaccine.
The company will now test the vaccine with those that had received the AstraZeneca jab, as they want to analyze if results could be similar to those obtained after the Pfizer comparative.
To do so, 270 volunteers across five different hospitals in Spain will receive the Hipra shot. Spain's Medicines Agency green-lighted a second version of the second phase trials to test the number of antibodies people would generate against the Omicron variant.
The Catalan pharmaceutical company plans to request the European Medicines Agency approval in April.
The vaccine is currently undergoing the third phase of trials with more than 3,000 volunteers in several European countries.
Possible benefits of Hipra jab
Unlike the other Covid-19 vaccines that are being administered throughout the EU, the Hipra jab is based on a recombinant protein, like certain flu shots, which simulates part of the virus and generates an immune response that protects against future infections or severe illness.
Furthermore, the vaccine only needs to be stored at 2ºC to 8ºC, making it easier to transport than the Pfizer and Moderna mRNA vaccines that must be frozen at much lower temperatures.
According to Dr. Rafel Ramos, a biomedical at Girona's Doctor Josep Trueta hospital, recombinant protein may be "a bit easier to adapt to possible future variants."
With new variants and other potential biological threats in mind, researchers stress the importance of continually developing new vaccines, especially as certain segments of the population remain unvaccinated and booster shots may be needed.