Barcelona hospital first in Spain to use hologram in complex surgery
3D technology reproduces patient's anatomy in glass pyramid, allowing team at Santa Creu i Sant Pau hospital to follow operation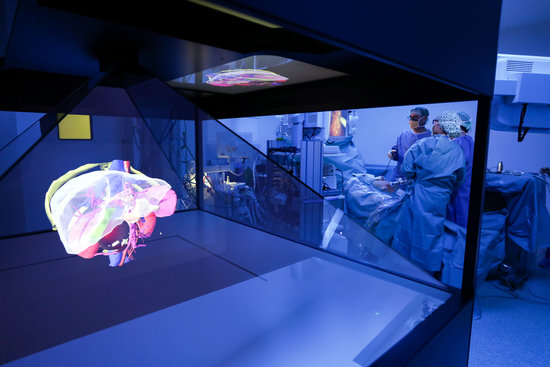 A Barcelona hospital has become the first in Spain to use a hologram that reproduces a patient's anatomy to help surgeons carry out a highly-complex operation.
Surgeons at the Santa Creu i Sant Pau hospital demonstrated the new technique on Monday, describing it as the "next step" in the use of 3D vision in surgery.
The hologram is projected inside a two-meter-high glass pyramid in the operating theater, which allows the whole surgical team to follow the operation.
The technique is the result of a joint project between the hospital and Catalan firm Newtonlab Space, with support from the Mobile World Capital Barcelona foundation.
Surgeons have so far used 3D goggles to help them carry out operations, but the new technique has the advantage that everyone in the theater can see what is happening.
Designed for highly-complex operations
The technology was designed for highly-complex operations, such as those on the pancreas or liver, in which surgeons have to be extremely precise so as not to damage other tissue.
The hologram is a reproduction of the patient's anatomy, highlighting the organs and other tissue, and allows the surgeon to try out different approaches before going ahead.
The surgeons manipulate the hologram with a sensor, which means they do not have to touch any devices, which helps ensure that the theater remains completely sterile.
Monday's demonstration was on a patient with a rare form of tumor in the pancreas, and as the technique used was keyhole surgery, the hologram helped the surgeon to see better.
The hospital says it intends to keep using the hologram technique as "another support tool" for health professionals, but said first it must establish agreed norms on its use.