AI at MWC23: new entertainment, better pictures, and helping people with disabilities
Companies show off many ways how artificial intelligence is applied at world's biggest mobile industry trade show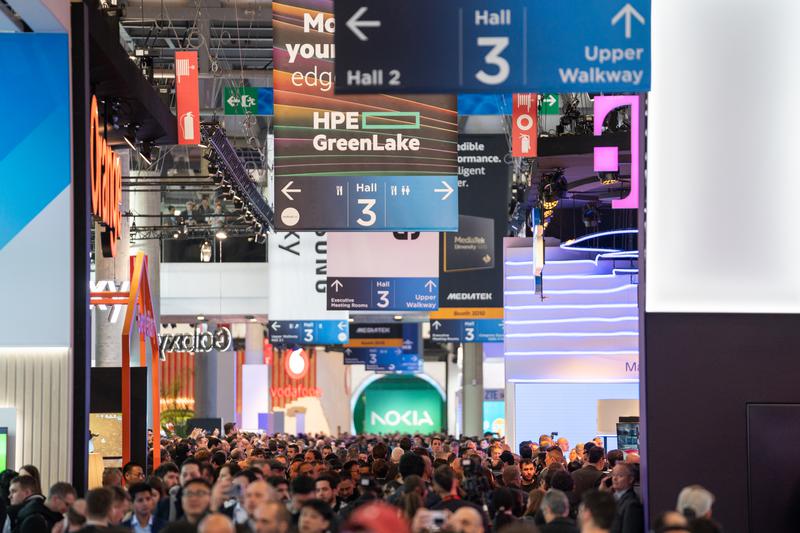 Artificial Intelligence has taken over internet culture in the past year or so, capturing the attention of the public in a way that AI hadn't done for many years. This is largely been thanks to new developments in natural language generators, like Chat GPT, as well as image generators such as Dal·E, now known as Craiyon.
These advances in AI technology are just a few of the most eye-catching examples of what's been released to the public, but many companies all over the world are developing all sorts of different AI-powered products, both consumer-facing and not. At the Mobile World Congress, Catalan News wanted to find out more about the uses of this technology, about whether AI is still just an overused buzzword, or if it has useful and scaleable real-world applications.
Breathtaking camera detail
One of the most exciting consumer-friendly uses of the leaps forward in artificial intelligence on show at MWC is how the technology is used in the cameras of mobile phones. Many of the world's leading manufacturers have brought their newest releases for the world to marvel at in Barcelona, and Samsung and Huawei are just two that are showing off their AI-powered devices that can capture impressive detail.
The Samsung S23 Ultra, hitting the markets for a pricetag of between €1,400-€1,800, has one of the most biggest zoom capabilities of any camera that has ever been commercially available – up to 100x. At the trade show, the Korean company has decorated their stand with a set designed to look like the moon, featuring various tiny figurines scattered across it, such as a miniature spaceman, and even a tiny model Sagrada Familía, all difficult to see with the naked eye, and detail is almost impossible even for those with 20-20 vision.
Surrounding this stage are stands with numerous Samsung devices and instructions telling visitors what settings to put the device on to take a picture with incredible levels of detail, with the camera using AI technology to take stunning images from what initially seems like will be blurry pictures.
Something similar can be found at the Huawei stand, the biggest at this year's congress. "Almost every Huawei device is powered by AI, especially in the camera system," Kamil Pilis, from Huawei Poland, tells Catalan News. The artificial intelligence is "adapting" the camera to every scenario it can pick up.
"The camera system will recognize where we are, what is the object, and then find the proper set-up as best as is possible to catch the best moment ever," Pilis explains.
Powering the metaverse
Some say the metaverse is going to be the next format of the internet, a new way of interacting with the online world. Entertainment is one of the first areas that this new technology can already be explored today.
Telecommunications giant Orange have teamed up with Utopia Voyagers to put on an interesting demonstration of metaverse entertainment at the Mobile World Congress, all powered by AI.
Visitors are treated to a spectacular dance and visual show that copies the movements of a performer wearing motion sensors across his whole body on stage at the Orange stand at the trade show.
"We have fed the AI with our visual reference for the project," Jose Infantas, CTO of Utopia Voyagers, says to Catalan News as he explains how the show works. Scientists working on the project asked two AIs – Midjourney and Stable Diffusion – for some "mockups" of how their artistic performance would look, and the team took one of those ideas and incorporated it into what the real-world dancer did.
Helping people with disabilities
But it's not just about capturing nice photos and creating new forms of entertainment. Artificial intelligence also has great potential for helping people, and one Swiss startup is at the trade show displaying their product that helps blind and visually impaired people walk around safely.
Computer vision is another branch of artificial intelligence that sees machines be trained to interpret the world around them, using images from cameras and trained using deep learning models.
Paul Prevel, who works at biped.ai, explains his product to Catalan News while wearing it – a device that wraps around his shoulders and half way down his chest. Over the left side, there is a unit that features many cameras on it. Over the right, a computer.
"With all of this information, we are able to see what is in front of the person, detect the obstacles and play a sound," Paul says. "The goal is to help people avoid everything that cannot be picked up by the white stick, for example, an obstacle that is far away that is moving, or that is too high compared to the ground."
Use in commerce and logistics
AI is slowly being introduced in more and more parts of our daily lives, and can even be seen in some stores and supermarkets already. Anybody living in Barcelona who has visited a Decathlon shop in the Catalan capital will have already been wowed by a form of artificial intelligence even if they didn't realise it.
UST is a partner company of Intel that is displaying their smart self-checkout counter that is designed to be deployed in stores. UST's product engineer, Subho, demonstrated his company's self-checkout to this media outlet, showcasing the possibilities of moving through stores at speed and with minimal contact – something he pointed out can be particularly successful during a pandemic, for example.
The automatic checkout system works by dropping products from a store into it, and without scanning barcodes, the machine can already work out what the customer wants to buy in mere nano seconds. "As a customer, you don't have to scan like a self-checkout counter one after the other the products, you can put multiple products and it scans all of the products immediately," Subho says. "The intel chipset powers the computer vision algorithm which we drive inside the machine."
The scope of artificial intelligence is extremely broad, but one way it can be thought of is basically training machines to do tasks that humans don't have the time to do. If this is applied to data analysis, the possibilities are endless, as machines can read and organize datasets far beyond the capabilities of any human.
Therefore, AI can also be extremely useful in many behind-the-scenes areas and logistics of companies that don't involve consumers at all. Alexey Kostadinov, who works at Intel and alongside Subho on the self-checkout display, says that such a device can be installed in places such as airports or shopping malls.
He points out that with several of these checkout lanes, as well as computer vision security or analytics, a company will have a lot of AI workloads running at the same time. "Commercially it is feasible and makes sense to put them virtualized on one server nearby to not have chips in every camera."
At the cusp of an artificial intelligence boom, the technology is already powering a wide range of applications, from making life easier for people with disabilities to offering new logistics solutions, and even helping you become the best photographer you can be.