Women's football attendance world record broken at Camp Nou
Number of spectators at Champions League quarter final reaches 91,553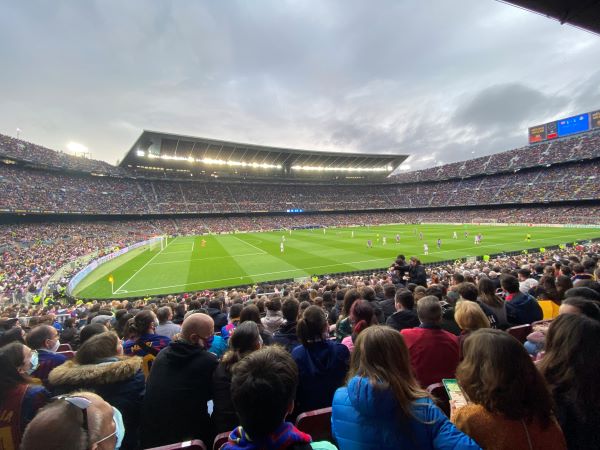 Barcelona's Camp Nou stadium and Barcelona FC's women's team Barça Femení broke the world record for the highest attendance at an official women's football match ever with 91,553 watching in the stadium on Wednesday evening.
This surpassed the previous record of 90,185 people at the 1999 Women's World Cup Final in the Rose Bowl Stadium in California, in which the United States beat China.
Playing against their long-time rivals Real Madrid in the Champions League quarter-final second leg, the hosts beat the team from the Spanish capital 5-2.
The first round of tickets for the match sold out within four days, and despite the rain on the morning of the meeting between the two prestigious clubs, fans flocked to the stadium in their tens of thousands.
Naturally, the prospect of playing at the bigger ground excited fans, as passionate supporter Aina described it as a "day to remember".
Another fan, Natxo, told Catalan News "Playing in Camp Nou and with what seems to be a huge attendance, I think it's going to be very, very important", highlighting the significance of the event in the context of women's football, "it might change things, hopefully for the better".
Many fans agreed it was a huge moment for the women's game, such as Enric, who believed that "a women's team can fill a stadium like Camp Nou for sure. They know that they have the support of all the supporters", as said in an interview on Wednesday before the game.
When asked about the world record attempt, spectators were optimistic. "The game is sold out, there's loads and loads of tickets, there should be 96,000 of us" supporter Arnau told Catalan News, predicting that fans would "definitely fill the stadium".
The victory means the Blaugrana advance to the semi-finals, which will take place in late April.
However, regardless of the outcome, the real winner has to be women's football, as it shows that matches can and do indeed match the enormous attendance figures of the men's game, and paves the way for Barça Femení to play less at the at the smaller Johan Cruyff stadium, with space for just 6,000 attendees, and more at the almost 100,000 capacity infamous Camp Nou more regularly.
Podcast
FC Barcelona Femení completed an unprecedented season in June winning the treble of the league, cup, and Champions League, while also inspiring new generations of girls to pursue a career in professional football. Have a listen to our Filling the Sink podcast episode on the greatness of this side published on June 12, 2021, for more details: