Wembley 92, Barça's first European Cup, 30 years on
Ronald Koeman's sublime strike in extra time changed the course of FC Barcelona's history forever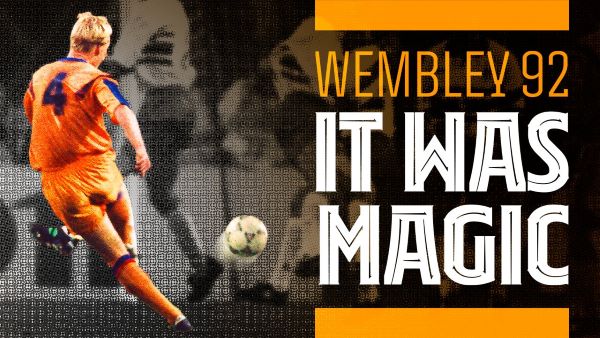 FC Barcelona are celebrating the 30th anniversary of their first ever European Cup on Friday.
On May 20, 1992, Ronald Koeman's sublime strike in extra time was the only goal of the game that gave the Catalans their first European crown. They have since gone on to pick five in the years since, two of which coming under the guidance of Pep Guardiola as manager, who was playing in central midfield on the Wembley pitch 30 years ago.
G⚽️AL OF THE DAY
3️⃣0️⃣ years of Wembley 92'
🚀 @RonaldKoeman pic.twitter.com/pFpRNqBZry

— FC Barcelona (@FCBarcelona) May 20, 2022
The club have the full match available to watch on their website, as well as shortened highlights.
The legacy of the Wembley victory is difficult to overstate. For the club, it brought them into a new realm after coming so close before: finally becoming European champions and joining the continent's elite.
Celebrated football pundit Michael Robinson, who sadly passed away in April 2020, described the victory in Wembley as "the seed for the biggest leap forward in the history of football."
Robinson believed that for too long, the sport had become too much an athletic pursuit, a physical battle, but the victory of Barcelona in 1992 put the importance back on the ball. He praised manager Johan Cruyff's revolutionary vision of the game, using tactics and styles of players not commonly seen at the peak of the sport up to that point.
Journalist Simon Kuper, in his 2021 book 'Baça', argued that Johan Cruyff's Barça team built the foundation for the modern iteration of the sport that we watch today.
The author and Financial Times columnist makes the same point that Robinson makes, that the success of the 1992 Barcelona team changed how the world looked at the sport and ultimately how the game was played.
Women's Champions League final
In 2021, FC Barcelona became the first club to win both the men's and the women's Champions League, when the Femení team defeated Chelsea 4-0 in Gothenburg.
Barça Femení have the chance to retain their European title on Saturday when they face an imperious Lyon side in the 2022 final in Turin.
The French outfit won the five previous editions of the tournament before Barça took the crown last year, and the two sides haven't met since the 2019 final, when Lyon overwhelmed the Catalans and raced to a 4-0 lead within half an hour of play.
Plaça Catalunya will host a giant screen playing the match, allowing fans to enjoy the final with an atmosphere in the city center.
Kickoff in Turin is at 19:00.