Magic night in Girona as football and basketball teams promoted to first division
City celebrates historic moment with fireworks, chants, and plans victory parade on Monday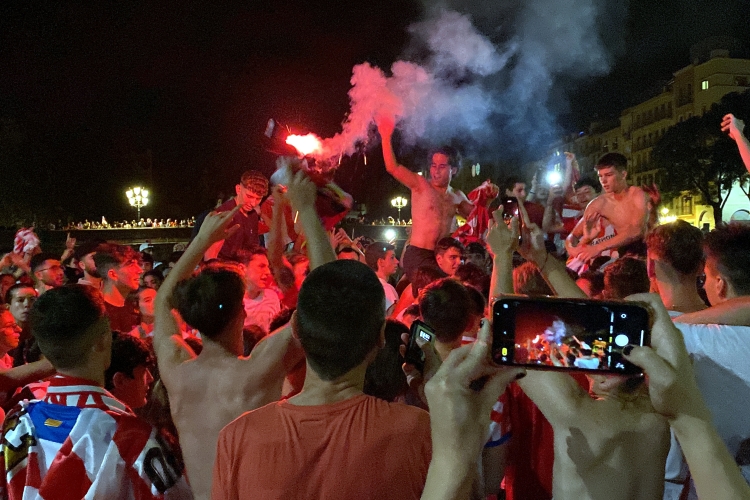 Hundreds of residents of the northern city of Girona took to the streets on Sunday night to celebrate a historic moment: both the city's football and basketball teams were promoted to first division leagues.
Girona FC, the football team, returns to 'Primera División' after three years. Meanwhile, 14 years later, the Bàsquet Girona basketball team, will be back in the highest competition in Spain, the Asociación de Clubes de Baloncesto (ACB).
The basketball team started playing at 6:45 pm, and two hours later, residents in the city already knew their team was going to be playing in the ACB next season. Bàsquet Girona won 60 to 66 against the 'Estudiantes' from Madrid in the Fontajau sports pavilion, in the same city.
"We were really scared towards the end, we had a 14-point advantage but the other team started scoring and they reduced the difference," a Girona fan said to the Catalan News Agency (ACN). "But in the end, we ended up winning, so now it is time to celebrate!"
At 9 pm, the football match on the Canary Island of Tenerife kicked off. Around two hours later, and after beating Tenerife FC 3 to 1, the Catalan city exploded in joy and painted the narrow city center streets in red and white, the municipality's colors.
Fireworks, chants, horns, and dozens of flags were waved in the air as Girona residents had been waiting for this moment for years.
But celebrations are not over. A victory parade will take place on Monday at 7pm with both the football and basketball teams taking to the streets. They will make their way around the city before ending up atthe Plaça del Vi, where the council is located.