La Liga season preview, featuring three Catalan sides in the top flight again
Barça are gambling for glory, Espanyol can be quietly confident, while newly promoted Girona will fight to stay in the division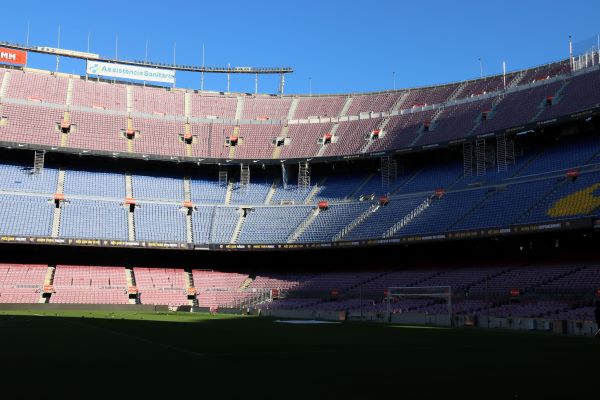 The new La Liga season is upon us, with three Catalan sides competing in the top flight of Spanish football again.
FC Barcelona will be hoping to push for their first league title in four years, Espanyol will be eager to consolidate their position and potentially make a run at qualifying for Europe, while newly promoted Girona will be planning on avoiding the drop and maintaining their top flight status.
Barça – risky bets, going for glory
The prevailing mood surrounding FC Barcelona is one of bewilderment and shock – as one BBC Football Daily podcast title this week put it: 'What is going on at Barcelona?'
Last year, club president Joan Laporta explained how debts had soared to over €1 billion, but now the club are spending aggressively in the transfer market.
This summer has been one of the biggest in recent memory at Barça, as Laporta has financed this new spending spree by the privatization of various club assets, from portions of future domestic TV rights deals, to percentages of in-house media production companies.
Laporta wants to facilitate what he terms a 'virtuous cycle' – spend money on the team to create a competitive squad, see the team win major trophies, which will in turn hopefully bring with it new revenue in terms of sponsorships, merchandising, and even prize money.
Barça are betting big on this model – the club has essentially mortgaged huge parts of its future in order to compete now.
Undoubted quality has been added to the dressing room: Lewandowski, Koundé, Raphinha, Kessié, Christensen, and Pablo Torre have all arrived, while Dembélé has signed a new deal with the club when it looked like he may have been out the door.
However, none of these players have been registered to play for the club in La Liga at the time of writing, with Barça's finances not yet balanced enough for the league to accept the new signings. That is the reason we're seeing Laporta pull so many 'levers' – "palacas" has been the word of the summer.
As soon as they are given clearance to actually play for the club, Barça will be in a very strong position to compete for the league title this year. Last season's 4-0 victory over Real Madrid showed they had regained ground on the double champions at the end of last season, and that victory was as much a statement of intent for this new season.
Espanyol – Optimism under new guidance
Espanyol fans would be forgiven for going into the new season quietly confident, knowing their team will be under the guidance of one of the most exciting up-and-coming coaches in Spanish football.
Diego Martínez not only delivered European football to Granada, but brought them as far as the quarter-final stages of the Europa League the season before last, where they lost to Manchester United, one of the biggest clubs in the world that made it to the final of that year's tournament.
New signings include Edu Expósito and Vinícius Souza, who will add steel to the midfield, while Joselu will be the new target man up front. The former Alavés striker won the most aerial duels last season (284), and could either lead the line on his own, or else become a partner for the prolific Raúl de Tomás, who is rumored to be on his way out the door, although no move has yet materialized for him.
The Budgies finished with a European berth just three years ago, before being relegated the following season, partially due to the team's inability to compete on so many fronts at the same time. There is quality present in the squad, and If Martínez can craft a functioning system similar to how he did in Granada, Espanyol fans will have reason to hope they can aim for continental competition once again.
Girona – back in La Liga
The northern Catalan outfit won promotion in dramatic circumstances, winning the playoffs after previously having rotten luck in the Segunda promotion race. This will be their first top flight campaign since they were relegated at the end of 2018/19, and Míchel's men will be hoping to keep their place in La Liga this season.
With any new club, there will be a certain degree of uncertainty – how will the squad adapt to the step up in pace and quality of the better division? How will the new players fit in with the team?
However, for Girona, there are at least two near-certainties they can lean on this campaign at either end of the pitch: Cristhian Stuani and Joan Carlos.
Stuani arrived in 2017 as something of a career journeyman, never really finding prolific form, until his arrival in northern Catalonia where his goalscoring statistics have flown off the charts. Last season, the Uruguayan bagged 23 goals, his best ever goalscoring season, and he'll be hoping to replicate that form on the biggest stage this year.
Minding the net is the resolute Joan Carlos, one of their most decisive players in the playoffs, who has plenty of La Liga experience behind him.
Yangel Herrera has been a La Liga stalwart the past few years, and he's one of the new signings that will sure up the midfield. Elsewhere young wing-back Miguel Gutierrez comes on loan from Real Madrid, Riquelme impressed at Mirandés last season and arrives on loan from Atleti, while it will be fascinating to see how Taty Castellanos adapts to La Liga after scoring almost a goal every other game in MLS.