How football uses AI to make better decisions and find advantages
Data scientists from Google, FC Barcelona, and an ex-pro discuss technological advances in the sport at MWC23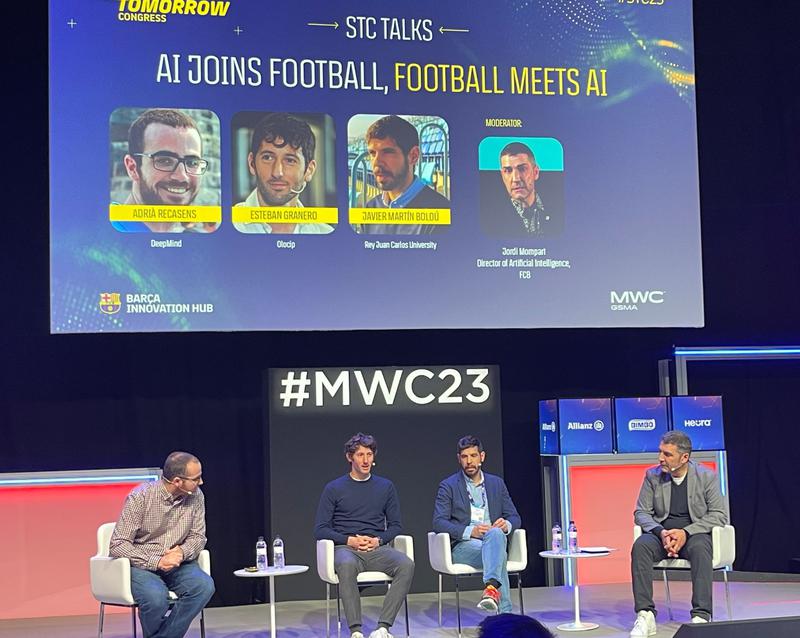 While the data revolution in football is well underway, it's still in its relative infancy. Yet, the game has reached a point where all top clubs are already using data to find advantages in their own performance, opposition analysis, and recruitment, according to the director of Artificial Intelligence and Research at FC Barcelona, Jordi Mompart.
Mompart chaired a conference at the 2023 Mobile World Congress AI in football featuring Google DeepMind scientist Adrià Recasens, professor at Rey Juan Carlos University Javier Martín Buldú, and former professional footballer Esteban Granero. After a playing career lasting over 15 years, Granero is now CEO of Olocip, an AI research company.
Despite the fact that data analysis is relatively new to the world of football, its huge advantages have been clearly demonstrated. New York Times journalist Rory Smith chronicled the data-driven successes of Premier League clubs such as Liverpool, Tottenham, Brighton, and Brentford in his recent book, Expected Goals.
There are many types of data in football, ranging from the very basic and relatively useless to the highly complex and much more insightful. Two broad categories of data collected during matches are known as 'event data' and 'tracking data' – each type is quite useful on its own, but the knowledge and advantages that can be reaped exponentially grow when both types are cross-referenced.
Event data has to do with the different types of plays that happen in a match: passes, shots, tackles – but not just that they happened, but where exactly on the pitch they happened, what happened next, how the event affected the team's chances of scoring, etc. Tracking data, meanwhile, records the position of all players on the pitch at all times, and the data analysts on the panel at MWC23 agree that the different types are "complementary."
For example, a defender standing at the edge of their own box passing the ball to a midfielder near the center circle means little without further context: it is a pass that has little impact if all opposition players are camped in their own half, but it can also create a huge advantage if there are numerous opposition players attempting to press the defender and are taken out of the game with the pass.
In order to cross-reference the datasets, they must first be collected. Collecting event data can be an extremely arduous task, normally taking numerous hours per single game of football. Tracking data can often be impossible for a human to collect for all players on the pitch at all times, and this is one area where artificial intelligence can come into play.
With these sets of raw data, Mompart says "incredible things" can be done, like being able to do "pattern recognition, which is super important to detect formations in a match," as well as "match analysis, post-match analysis of our team, our rivals, scouting, and many other things."
AI algorithms can also assist data scientists in making predictive and prescriptive analyses, as Recasens, Granero, and Buldú pointed out. Currently, football data is by and large at a point where it can successfully analyze past matches, offering a certain amount of useful conclusions on what kind of in-game approaches work and don't work, but it is now also beginning to look to the future, or even real-time insights in the present, which would only be possible with advanced algorithms.
"There is no human able to work with all the data, the variables, the parameters we have in football, so we need the support of machines. Machines, in terms of big data and artificial intelligence, can provide a lot of help to the technical staff," Mompart explains.
AI is helping the world "understand football," as Granero puts it. Yet, as he added, "defining football is more difficult than defining chess," for example, meaning the parameters are completely different. While AI has been put to great use in chess, teaching some of history's best grandmasters new things, the pieces on the board are not moving simultaneously, the way players move in a more dynamic way in football.
Baldú also makes the point that it can be extremely difficult to even define the list of parameters that should be taken into account during a football match when analyzing data, adding that AI can be given this responsibility too.
The dynamic nature of football means that it is an area "perfect for data collection and AI research," Recasens, whose team also works with Premier League side Liverpool, believes.
"Data and artificial intelligence are going to change the world," Mompart affirms. "We are starting to understand how machine learning and artificial can change the world. Machines are doing things that five years ago we thought were impossible, and now they are doing it. It's going to happen not only with football but every single topic in society that has to do with data. Machines will help decision-makers make better decisions."