Golf courses and padel courts in Western Pyrenees welcome first returning players
Enhanced security measures see equipment regularly disinfected and access limited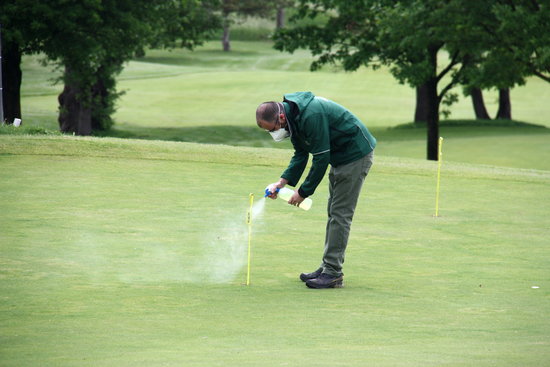 Sport is slowly returning after the strictest of coronavirus lockdown measures have begun passing in parts of the country. Golf and padel players in the Western Pyrenees region have been able to return to their sports this week, as the area moved on to Phase 1 of the coronavirus lockdown de-escalation plan on Monday.
In order to regulate the access and avoid crowds, all players must make an appointment to enter the courses and courts. In addition, extra safety protocols have been established to avoid contact.
Aravell Golf & Country Club has installed lid systems in the holes to remove potted balls to avoid contact and risk of infection.
In order to enter the golf course, its director Beatriz Cantero explains that two access points have been opened from the outside, as the indoor facilities remain closed to users.
In addition, seating areas of the facility will not be open, except for the terrace of the club bar. Finally, only individual use of golf carts, or members of the same house, is allowed.
As it is an individual sport, it is not necessary to wear a mask on the course. Cantero explained that they are "very excited" to have been able to reopen and that the return to play has generated a lot of "expectation."
He explained that at the moment everything is working properly, they are waiting for more players and fans from other health regions of Catalonia and also from Andorra to arrive later, as most of the members of the club are from the Principality.
Only one-on-one games allowed in padel
Meanwhile, on the padel courts of the Urban Sport in La Seu d'Urgell, also in the Western Pyrenees health region, players must wear a glove on the hand that does not hold the racket.
The players must arrive at the court with a mask, which they can then take off to play. At the moment, individual classes or one-on-one matches can be made by booking.
The owner of the Urban Sport Club of La Seu d'Urgell, Jordi Sànchez, points out that "there was a great desire" for this activity again, especially among children who already wanted to "move, grab the racket," and to get back to "year-round training."
In Phase 1, sports centers are only allowed to open outdoor courts, and only open indoor courts in Phase 2. By the next phase, too, doubles games will be permitted.
The club has hand sanitizer for washing hands before and after each session.