Gerard Piqué: an icon of Barça's greatest team who changed how defenders play football
Catalan star provided some of the most memorable moments in Barcelona's history will go down as one of the game's best ever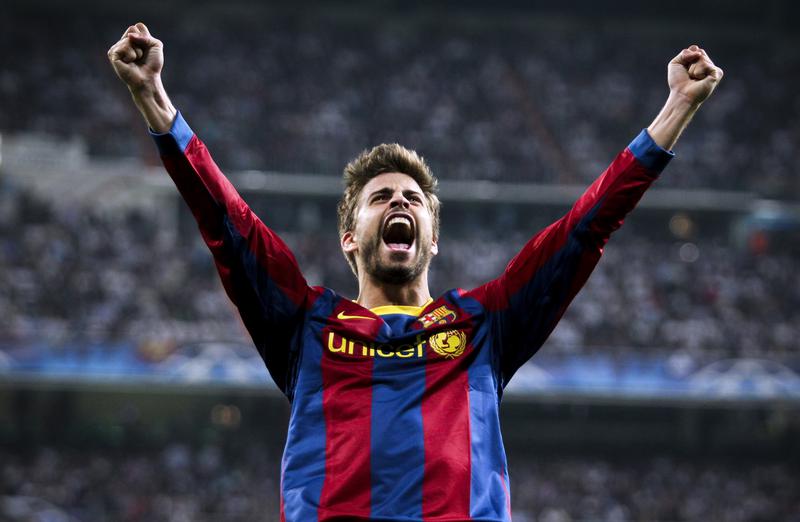 Gerard Piqué has announced his retirement from football. After the World Cup, the 35-year-old won't return to the squad, marking the end of an era for FC Barcelona.
The trophies are almost too many to count, and the moments of glory are even more plentiful. Four Champions League titles, eight La Liga titles, one Premier League, one World Cup, one European Championship title, and a string of other cups and Supercups will ensure that the Catalan center-back goes down in history as one of the most decorated players of all time.
Piqué has been a symbol of Barça throughout his career, personifying everything great about the club in the heady days of winning everything under the sun under Pep Guardiola.
Greatest moments
There are plenty of standout moments from the player's career that display his worthiness in the pantheon of footballing gods.
One of the most iconic images of Piqué shows his beaming smile as he outstretches his palm and fingers to emphasize the emphatic 5-0 scoreline against Real Madrid, known locally as 'la manita' - the little hand, with a goal for each finger and thumb.
One of his greatest goals came in his first ever clásico. With gleeful abandonment of his defensive duties in Madrid's Bernabéu stadium, he sprang forward late in the game to add the last goal in Barça's 2-6 drubbing of their eternal rivals.
𝗦𝗶𝗺𝗽𝗹𝘆, 𝘁𝗵𝗮𝗻𝗸 𝘆𝗼𝘂 pic.twitter.com/gWKRAaNsSR

— FC Barcelona (@FCBarcelona) November 3, 2022
In Cornellà-El Prat, he silenced the home fans with a last-minute derby winner in 2017 after the pericos had showered him with torrents of abuse all evening.
Throughout his career, Piqué has shared (and even possibly enjoyed) a bitter rivalry with Barcelona's second team. Espanyol fans have in the past been particularly vocal and vulgar toward the Barça star and his family, and Piqué once famously declared that he was personally wealthier than Espanyol as a club.
Piqué leaves football as the highest-scoring defender in the history of the Champions League, level with Roberto Carlos on 16, and local rivals Espanyol will go down as his favorite victim, scoring more goals against them that any other team, with six.
Learning from the outside world
Despite growing up in Barça's La Masia youth system, Piqué did not spend his entire career at Camp Nou. Instead, he spent some of his teenage years learning from Alex Ferguson at Manchester United, and in doing so he embodied a trait intrinsic to FC Barcelona and Catalonia as a whole: an outward-looking curiosity and desire to learn.
Barça are an institution extremely proud of their Catalan heritage, as Piqué is as a person. But Barça were made great by influences from outside, namely the teachings of Johan Cruyff that built them into the modern powerhouse they are today. Piqué followed a similar path by learning from one of the greatest ever managers in England and bringing his talents back home where he truly triumphed.
His style of play too, playing the ball out from the back, perfectly embodied Pep Guardiola's ideas, and Piqué was a fundamental cog in the 2008/09 Barcelona team that changed how football is played around the world.
Decline and eternal legacy
But just as in the good, Piqué has also reflected the decline of Barcelona in more recent years. Under the presidency of Josep Maria Bartomeu, Barça entered a phase of decadence, paying stratospheric wages to aging players who were good servants to the club in the past but had already started to lose their grip on the highest level of the game.
All four of Piqué's Champions League titles were won in the eight years between 2007-2015, while none have come in the seven years since then. Six of his league titles were also won in the first half of his career, and just three since.
When the defender desperately reached for Kylian Mbappé's shirt as the PSG star ran almost cartoonishly fast away from him on the way to scoring a hat-trick in a 1-4 win in the Camp Nou in 2021, the decline was no longer in doubt and the moment made particularly fruitful meme fodder for weeks.
Numerous moments this season have shown Piqué's unhappiness with being a bench warmer without any real expectation to play a prominent role, from being caught without shinpads and not ready to replace an injured teammate, to being criticized by fans for an especially low-energy warm-up on the sidelines.
Time catches up on us all, as it naturally should, and Piqué has decided that now is the time to hang up his boots, giving up a year and a half of his contract.
Saturday night's game against Almería at home will be Piqué's send-off, and the perfect opportunity to bid farewell to the fans.
Despite the decline in the latter part of his career, there can be no arguing that his influence as part of the great 2008-2012 Barça team can be felt in football in all corners of the globe today, and that will ensure that Piqué will forever go down as one of the greatest defenders in the history of the game.