FC Barcelona's Camp Nou stadium joins Catalan police's anti-drone security system
Kuppel project allows Mossos d'Esquadra officers to respond quickly to protect public safety and inhibit unauthorized flights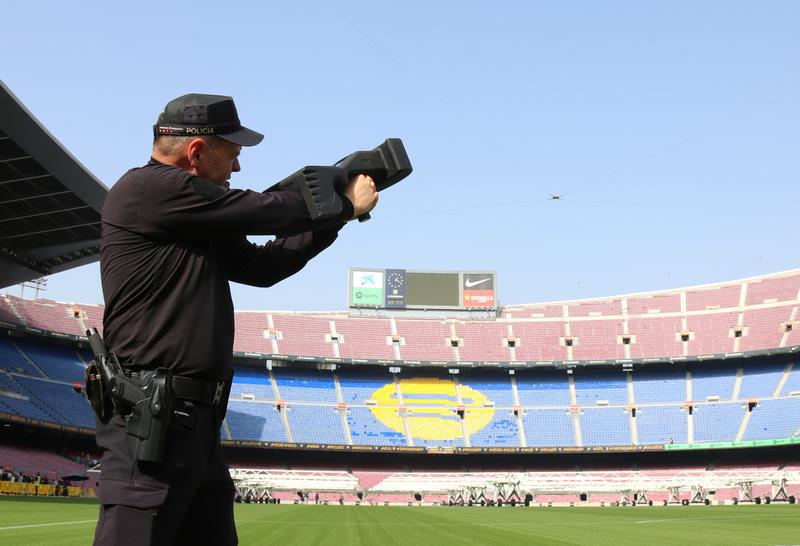 FC Barcelona's Spotify Camp Nou stadium has become the latest site to be integrated into the Catalan police's Kuppel project, which protects airspace against the irregular use of drones.
At an event at the stadium marking the agreement between the club and the government on Tueday, interior minister Joan Ignasi Elena explained that the technology works through antennas and sensors and has already been implemented in places such as Barcelona-El Prat Airport and the Tarragona petrochemical complex.
The system allows the Mossos d'Esquadra police to be aware of any drones that are flying over a certain area, to respond quickly in the event of a threat to public safety and to inhibit unauthorized flights.
"Now we are also starting to use it at the Camp Nou, which will allow us to protect an area of two kilometers, which no unauthorized aircraft will be able to enter." Elena said, adding that if a drone is detected flying through this airspace without permission, "it will be inhibited."
The Camp Nou is a particularly sensitive point because it "attracts many people and a lot of activity," Elena said.
Incorporating it into the Kuppel system is an example "of the involvement of the Mossos in the security of the country," he added.
FC Barcelona club president, Joan Laporta, said he was "very satisfied" with the agreement and highlighted the fact that the Camp Nou is the first stadium in Spain to join such a project.
Mario Olivares, a police sergeant and head of the Mossos' Central Operative Technical Unit, explained that when an unexpected aircraft is located, an audible alert appears on the screen at the command room, where officers monitor and control airspace 24 hours a day.
"If we see that a drone could pose a threat, we proceed to inhibit it", he said. This is done by emitting radio waves that have more power than those produced by the drone pilot's device.
Police officers mentioned a case of dangerous drone use when a person in February 2022 was fined after having flown a drone from his home to Tibidabo, a high point overlooking Catalonia.
"For us this is very dangerous, there are two hospitals on that route, Sant Joan de Déu and Vall d'Hebron, and therefore it is a helicopter approach route."
Drone terror attack
In October 2022, an individual was sentenced to three years behind bars for plotting a drone terror attack in the Camp Nou during an FC Barcelona vs Real Madrid game.
In a trial at the Spanish National Court, which oversees terrorism charges, Mohammed Yassin Amrani's defense reached an agreement with the public prosecutor finding him guilty and giving him a three-year sentence for the crimes of terrorism self-indoctrination and self-training.
Barça president not resigning
Speaking at the same event on Tuesday, FC Barcelona president Joan Laporta ruled out stepping down, despite mounting pressure over the recent revelations of payments made by the club to a referee between 2001 and 2018.
Laporta said he would not "delight" La Liga's president, Javier Tebas, who urged him to resign if he was not able to provide a "reasonable explanation" for the payments.
The information was first revealed by Spanish radio network Cadena SER last week, who published that public prosecutors are looking into payments worth around €1.4 million from FC Barcelona to the company belonging to Jose María Enríquez Negreira, who was working as the referees' committee vice president at the time, between 2016-2018.
Another report from El Mundo alleged that the payments were worth over €6.5 million, dating back to 2001.
On Tuesday, Laporta said that the 'blaugrana' team has outsourced their investigation to a law firm to lead "an independent, serious and excellent analysis."
The timespan of the incidents affects several former presidents, as well as Laporta's first stint as president, between 2003 and 2010.