Barça Femení sell out Camp Nou for Champions League semi-final clash
First leg against Wolfsburg on April 22 could see another world record attendance after 91,553 went to quarter-final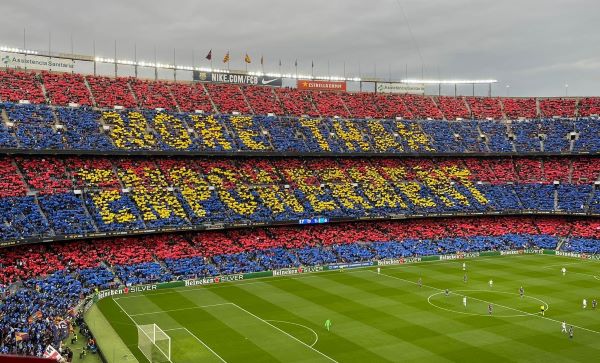 Barça Femení are on a high at the moment: not only have they swept up the league title already this season with a perfect record of 26 wins from 26 games played and a goal difference so far of +136 goals, but they also broke a world record last week when they attracted 91,553 fans to the Camp Nou for the Champions League quarter-final matchup with Real Madrid.
The 5-2 win for FC Barcelona saw more fans attend than any other game in European football, men's or women's, this season. Now, tickets for the upcoming semi-final duel with German outfit Wolfsburg have sold out in just over 24 hours.
SOLD OUT!!! 🤯🤯🤯
Ho hem tornat a fer! En 24 hores heu esgotat totes les entrades per tornar a fer vibrar el Camp Nou! #FCBfemeni

➡️ https://t.co/TMIp7A5RO2 pic.twitter.com/JcooZpWwBx

— FC Barcelona Femení (@FCBfemeni) April 5, 2022
Barça could break the world record for the highest attendance at an official women's football match for the second time in a matter of weeks, as more than 7,500 additional fans could fit into the Camp Nou as well as the 91,553 that attended the Real Madrid game.
The atmosphere for the quarter-final clash was electric in the stadium, as Barcelona's women's team played in front of fans in the Camp Nou for the first time ever.
After the 50,000 tickets that were reserved for club members were quickly snapped up on Monday, thousands more went on general sale, with people waiting in electronic queues far exceeding the possible capacity of the stadium.
Hay cola en la web del @FCBfemeni para comprar entradas para la Champions en casa. Gracias #Tacon todo es por vosotros! pic.twitter.com/fajRTOmJDE

— Pedri Potter (@PedriPotter10) April 5, 2022
"El fútbol femenino no interesa"
Cola virtual para conseguir entradas para el partido de Champions del @FCBfemeni El Camp Nou se vuelve a llenar!! pic.twitter.com/hO4o4Wi3o3

— Melania (@MelPetrer91) April 5, 2022
By early Tuesday evening, the rest of the tickets available were all taken.
Wolfsburg will provide stiff competition, as the 2013 and 2014 European champions will want to regain their throne, but the Catalans will be keen to complete their own Champions League two-in-a-row after claiming their first title last season.
The first leg of the semi-final clash will be played in the Camp Nou on April 22 at 18.45, while the second leg will take place on April 30 at 18.00.
The Champions League final will be held in Turin this year on May 21 at 19.00.