Barça and UN launch new refugees exhibition in Olympic Stadium
Thousands of displaced people were accommodated in the historic sporting arena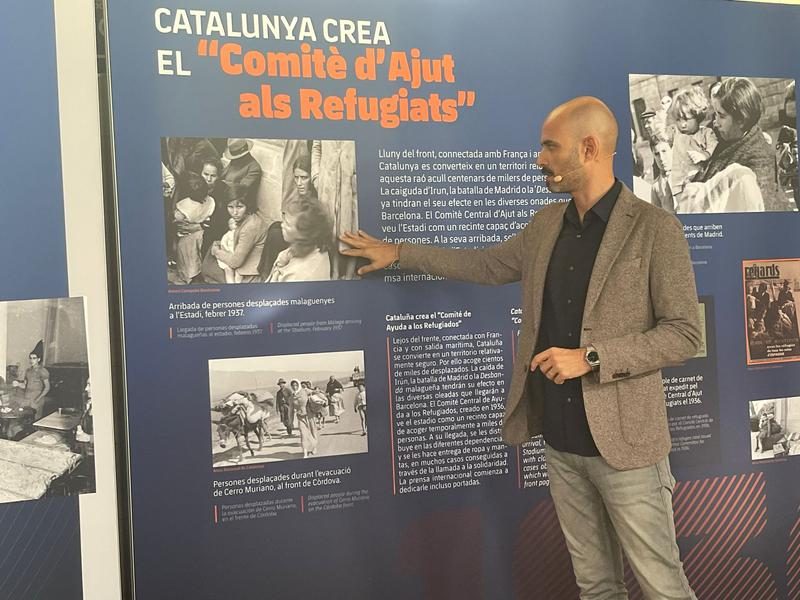 At least 21,000 displaced people were accommodated in the Olympic Stadium where FC Barcelona are playing their home games this year in the 1930s.
This number of people are accounted for from 1936 until March of 1937, when the Civil War was ongoing across Spain, and the true number of refugees that passed through this sporting arena in those troubled times but the ensuing chaos after that point meant that accurate records were impossible to keep.
A new exhibition opened in the Montjuïc stadium by FC Barcelona, the United Nations High Commissioner for Refugees, and in collaboration with Panenka magazine, details the history of this stadium that was also the base for the 1992 Olympic Games.
Sports journalist Aitor Lagunas explained the exhibition to visitors at an institutional event on Monday evening.
The refugees came from other parts of Spain that fell to Franco's forces after the outbreak of the Civil War, including the Basque Country, Madrid, and Andalusia.
During the first half of the war, which lasted from 1936 until 1939, Barcelona was a relatively calm place, as the front lines lay far away.
The Olympic Stadium was chosen by local authorities as a suitable location to act as a temporary accommodation site while the new arrivals to the city found more permanent residencies.
The exhibition now open in the sports ground explains the daily life of people living in the facility during those turbulent months.
The inner halls of the building served as sleeping rooms, a kitchen and dining hall, schools, infirmaries, and more.
The work of the Polish photographer of Jewish descent, Margaret Michaelis, has been crucial in remembering these months, as she was commissioned by local authorities to document daily life in the stadium at the time.
After the war ended, the stadium hosted some cup finals in the 1940s and 50s, but soon fell into disrepair, before being redeveloped ahead of the 1992 Olympic Games, held in Barcelona.
The exhibition will be available to view to attendees of the Barça v Shakhtar Donetsk Champions League tie in the Olympic Stadium on Wednesday, and then the club will seek a location to exhibit it in the city center.