Alexia Putellas suffers ACL injury, ruled out of Women's Euros
Ballon d'Or winner expected to be out of action for up to 12 months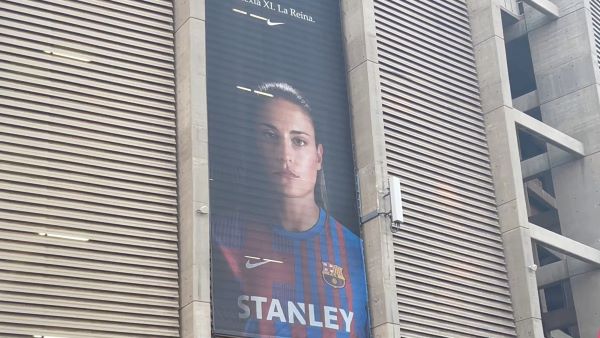 On the eve of the Women's European Championships kicking off, FC Barcelona and Spanish national team star Alexia Putellas has suffered an injury to her left anterior cruciate ligament and will miss the tournament.
In fact, the ACL injury could see the Barça captain out of action for as long as 12 months, meaning she will miss the majority of next season as well.
Putellas was named the best player of the Women's Champions League last season and ended the tournament as the top scorer in the competition with 11 goals.
Her loss will be a devastating blow to both her club for next season and her national team for the Euros, in which Spain are seen as one of the favourites to lift the trophy.
They begin their tournament on Friday evening when they take on Finland in Stadium MK in England, and have also been pitted in a group against Germany and Denmark.
Catalan newspaper 'Sport' report that there is huge indignation among the Barcelona hierarchy for the injury suffered by Alexia. The daily claim that their sources have let their rage against the type of training sessions the national team undertakes be known.
Sport say that the anger felt by the club also stems from the fact that Alexia's is not the first major injury a Barça plater has suffered while on international duty, and the club feel the repeated bad news may not be by chance.
Recently, Mariona Caldentey, Bruna Vilamala, and Cata Coll have all suffered injuries while on international duty.
Of the Barcelona players representing Spain at the 2022 Women's European Championships are Irene Paredes, Aitana Bonmatí, Mariona Caldentey, Patri Guijarro, Sandra Paños, Mapi León, Andrea Pereira, and Clàudia Pina.
As well, other Catalan players in the squad include Ona Batlle, Laia Aleixandri, and Leila Ouahabi.
Connection with fans
Putellas has been at the heart of another record-breaking season with Barcelona, one that has seen them build a special connection with their growing fanbase in the city and across Catalonia.
The blaugrana were relentless in the last campaign, winning 30 games out of 30 played in the league, picking up the Cup and Super Cup, and only falling at the final hurdle in the Champions League to a historically good Lyon side.
Some 15,000 fans travelled to Italy to witness that European Cup final in person, and another nearly 3,000 packed into Plaça Catalunya square in the middle of Barcelona to view it on a giant screen set up by the club and city authorities.
Additionally, the Champions League quarter-final and semi-final saw two consecutive world records set for highest attendance at an official women's football match. Both games were played in the Camp Nou, first against Real Madrid and then against Wolfsburg, where 91,553 and then 91,648 people turned up.
For more on Barça Femení's record-breaking season, check out the episode of our podcast Filling the Sink on the topic, published in May: