Women march for rights with several demonstrations across Catalonia
March 8 is International Women's Day and Catalan residents took to the streets to urge for an "end to injustices"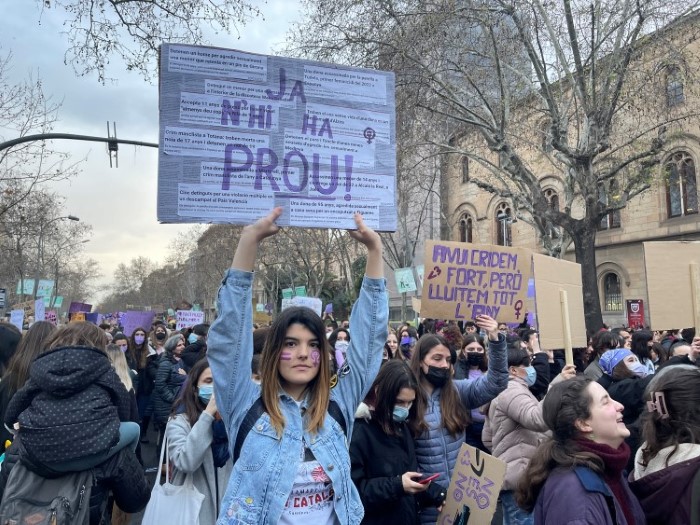 Thousands of women and their allies took to the streets in Catalonia to march for equality and an "end to injustices" on International Women's Day.
Several cities organized demonstrations on March 8, with one of the biggest protests starting at 6pm in Barcelona's Plaça de la Universitat, gathering 15,000 people according to local police.
There, in a sea of purple, protesters chanted: "Without women there is no revolution" and "Together we're stronger."
They held up signs saying things like "I'm still freaking out for having to protest this shit" and "If you don't understand the motive for this fight then you are part of the problem".
Drums pounded, a hi-fi blared out Rigoberta Bandini's "Ay mamá", a song which just missed out on selection for Eurovision but which is fast becoming a feminist anthem.
In fact, its lyrics could be seen painted on signs too: "I don't know why our tits are so scary for people."
More serious messages were also carried by protesters, such as: "I wasn't born a woman to die for being one."
'We want to be equals and we want to be heard'
Catalan News spoke to some of the protesters at the rally about their motivations for coming.
"We want to have the same opportunities at work, in life, not to be scared walking down the street that anything could happen. We want to be equals and we want to be heard," said Marta Vidal.
Victoria López Benito from La Vida en Rojo, a group promoting menstrual awareness said that she has been coming out to march on International Women's Day for years put that this year she had a specific message.
"We are protesting so that the menstrual cycle and menstruation becomes a positive, inclusive, integral experience for all of society, that women begin this process of self-knowledge, and that at a societal level our differences as women and menstruating people are valued as a good thing."
Another protester, Lucía Moreno, said she was marching to "defend the rights of women. I'm defending the women who are no longer here because of rapists. I want them to know that we are women and we are here to defend ourselves and we are not a toy."
Demonstrations across Catalonia
In towns across Catalonia, similar marches took place on Tuesday evening. For instance, 1,500 people protested against patriarchate and sexism in an event that started in Plaça U d'Octubre.
'We are fed up with standing what we cannot stand,' read the main poster at the front of the protest.
Around 700 more gathered in Lleida, western Catalonia, 2,000 in Tarragona, in the south, and hundreds more took to the streets in other towns and villages.
The protests for International Women's Day started with a day-long strike called by the CGT union and other groups.
Associations such as "Avancem lliures i combatives, ni un pas enrere!" (Let's move forward free and combative, not one step back!) also organized work stoppages throughout the day.
More to follow