Two arrested as police clear student campers from Plaça Universitat
Students had been blockading the square for three weeks, yet some were still reluctant to go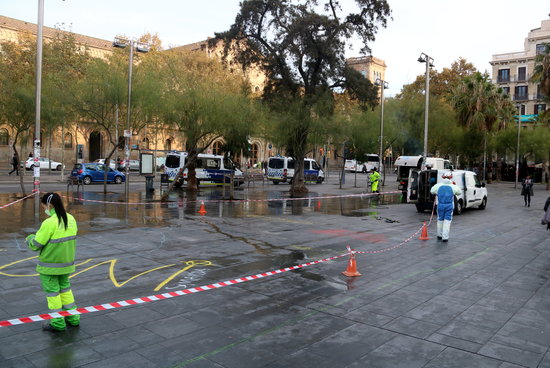 Barcelona's local police Guàrdia Urbana have cleared the Plaça Universitat of camping students after a three-week blockade, arresting two students, as reported to the Catalan News Agency (ACN) by local sources.
The protesters had set up camp in the square to reject the convicting of the Catalan independence leaders to 9-13 years behind bars.
They were cleared at 1am on Wednesday morning, having spent 20 nights in the square. Two were arrested for challenging authorities, as they resisted the operation.
The students were cleared four days after the Catalan Police identified the 117 people that were in the square, and arrested one of them on a pending court order.
Around 20 police vans cut off the Gran Via around Aribau street, and the officers started to dismantle the campsite, removing material that blocked the way to the tents before removing camping facilities. Some of the campers reproached officers who did not let them take their belongings.
Scenes of tension followed as some of the campers resisted the police attempts to clear them from the square. However, within a quarter of an hour, they were cleared and cleaning services had started to clear up everything that was left.
Protests take a turn for the worse after 20 days
After the first few days, the blockade became something of a social claim, and students received food, furniture and even money from organizations.
Police reported that students did begin to acquire resources in more illicit fashion, after fences and a portable toilet appeared that had allegedly been stolen from a nearby public building, and above all, a suspected sexual attack by one of the students in a local shop.