Trade union to call 24-hour strike in Tarragona petrochemical estate
CCOO wants other unions and public to join stoppage demanding safety guarantees following chemical plant explosion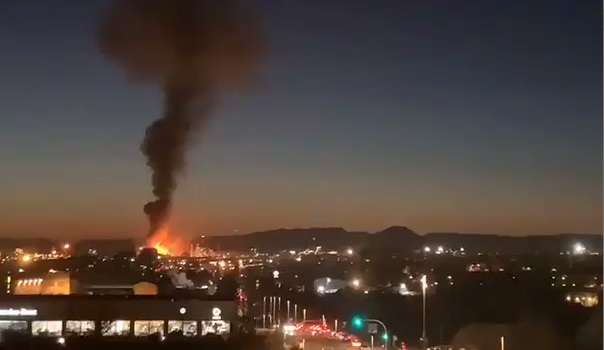 The largest trade union in Catalonia, CCOO, will call a 24-hour general strike in the first half of February in Tarragona's petrochemical industrial estates, where an explosion at the Iqoxe chemical plant left three people dead this week.
The decision to call the strike was the result of a meeting on Friday between the union's representatives in the main and support companies based in the petrochemical industrial estates in the north and south of the southern Catalan city.
The union said it expects the strike to take place "jointly with the UGT [trade union]," and it also called on the public in the Camp de Tarragona area to join the strike. Sources in UGT said they are waiting to meet before making a decision.
CCOO said the strike will include a march that will make stops to demonstrate in front of the Catalan and state government offices in Tarragona, as well as the headquarters of the local business associations, the AEQT and the AEST.
The aim of the 24-hour stoppage is to demand guarantees for the safety of people who work in the chemical sector, as well as the public in general, "and that an end is put to the growing job insecurity."
The union said it also wants companies to come up with new safety plans that take into account this week's explosion, while it is asking the Catalan government to ensure that companies strictly comply with safety regulations.
On Thursday, police raided the offices of the company as part of an ongoing investigation to determine whether there was criminal responsibility in the incident. It was also revealed this week that the IQOXE company had been sanctioned three times in recent years for health and safety reasons.
Government to meet sector representatives
Also on Friday, labor minister, Chakir El Homrani, said the government would "soon" be meeting with representatives of the unions and the chemical companies to discuss how to make working conditions in the sector safer.
El Homrani made his statements following a meeting with the AEQT business association, which represents chemical companies in Tarragona. The minister said AEQT showed a willingness to work with the unions to address their concerns.
Calling the IQOXE accident a "turning point," the minister said the business association is aware that it has to "build trust" and insisted that "the best way to resolve any challenge or problem is through agreement and dialogue among all parties."