Tarragona, Ebre and western Pyrenees regions begin their eased lockdown
Bar terraces, hotels, museums, libraries, gyms and small shops can open, as people are allowed to travel within their health region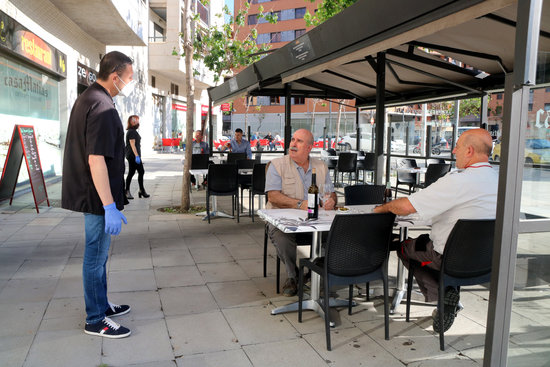 Three out of the nine health regions in Catalonia saw their lockdown eased on Monday at 12 am: the Tarragona area (Camp de Tarragona), the Ebre region (Terres de l'Ebre), and the western Pyrenees (Alt Pirineu i Aran).
On Friday, Spain accepted for the path towards the end of confinement to be divided in Catalonia by health regions and not provinces, as requested by the Catalan government. Madrid also accepted the Catalan petition on which of those areas were to move from Phase 0 to Phase 1 of the scheme on Monday – the others, including Barcelona, Girona, and Lleida, will have to wait for now.
Phase 1 allows bar terraces to open at 50% capacity, as well as hotels except for communal areas, and clients will be able to visit shops under 400m2 without an appointment. Come Monday, however, not all establishments have chosen to open - in Tarragona, for example, plenty of terraces at Rambla Nova and plaça Verdaguer were open for business, but most of those plaça de la Font, on the other hand, remain closed.
Museums and religious buildings are also permitted to open at 30% of their capacity in Phase 1, as well as libraries, with limited capacity, and gyms, but only by appointment and individually.
People living in Phase 1 – from Monday, 11% of Catalan residents – will also be allowed to travel within the health region, including to second homes.
Uneven lockdown de-escalation in Catalonia has also led to situations in which nearby towns of similar characteristics now face different realities because they fall on different sides of a health region border. This is the case of the towns of Oliana (Alt Urgell) and Ponts (Noguera) in the western Lleida area of Catalonia. Only some 25 km apart from one another and with nearly interchangeable demographic features, Oliana residents can now enjoy their outdoor terraces while those in Ponts cannot.
Check out this Q&A to know what is allowed and what prohibited for each phase.
Primary care centers carry out PCR tests
As announced by Catalan health minister Alba Vergés on Saturday, primary care centers (CAPs) in the three health regions that have passed on to Phase I have begun to carry out PCR diagnostic tests on people displaying symptoms compatible with the coronavirus.
Coinciding with Monday's phase change, the Sant Pere i Sant Pau CAP in Tarragona has already noticed an increase in the number of patients walking through its doors and kindly reminds people to make appointments in advance as well as to keep a safe distance between one another while insisting that everyone in need of a test will be tested.