Spanish national police agents to face trial for 2017 referendum crackdown
45 officers charged with crimes of injury, torture, and against moral integrity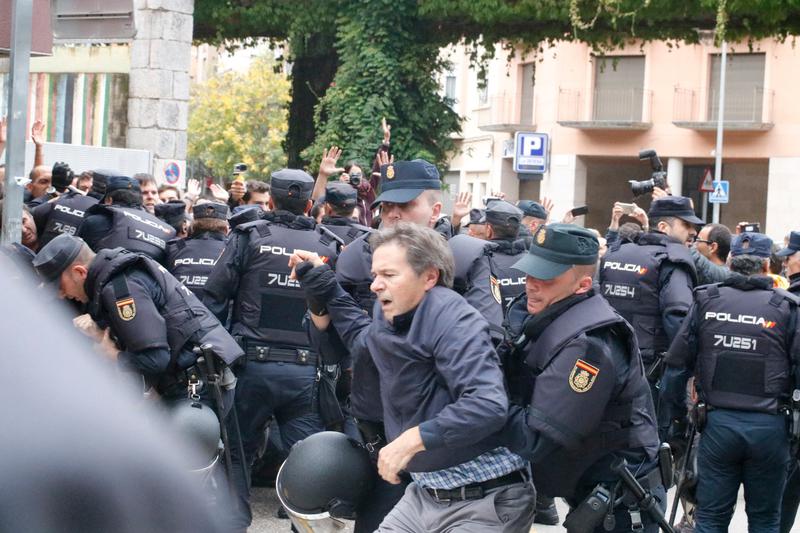 45 Spanish national police officers will face trial for the violent crackdown in Barcelona of the October 1, 2017 Catalan independence referendum. A court in the Catalan capital concluded its investigation of the police actions on Wednesday, more than five years after the vote.
Police violence at several voting stations in Barcelona left 325 people injured according to the Catalan health department. Based on the judge's investigation, these agents have been charged with the crimes of injury, torture, and against moral integrity.
The judge shelved the charges against 20 more agents.
On that day, Spanish national police went to 27 different schools. Complaints were filed in all of them, but not all have made it to trial.
The judge acknowledged that demonstrators at schools did not need to know the judicial rule of eviction from those centers; therefore, the police action was "excessive," and protocols were not followed.
Police used violence in a "clearly unnecessary" way against demonstrators with "no aggressive attitude," the judge's text reads.
Among the law enforcement agents that face trial are officers who injured demonstrators' ears and heads, even of elderly protesters.
Independence referendum five years on
October 1, 2017 was a day like no other in Catalonia. An independence referendum occurred despite Spain's ban and police cracking down on voters. How did events unfold and how much of a game changer was the vote for the independence movement and for Catalan politics?
Listen to our Filling the Sink podcast episode published on October 1, 2022 to learn more about it.