Social and policital support to stop deportation of prominent Muslim activist leader
Mohamed Said Badaoui says he has received no response to his appeals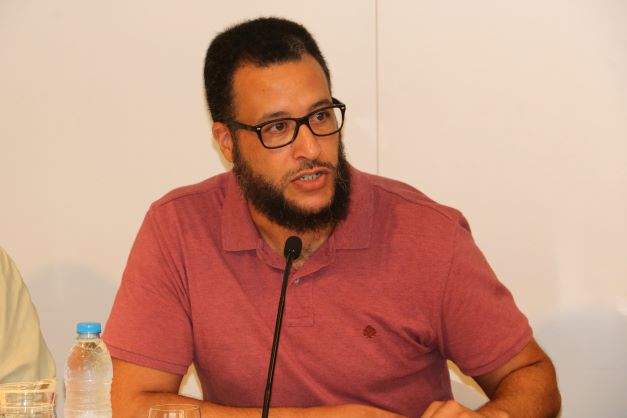 Members of the Spanish Congress have sent a letter to the interior minister, Fernando Grande-Marlaska, to ask him to stop the deportation of a prominent Muslim activist from Reus.
Mohamed Said Badaoui is president of the Association for the Defense of the Rights of the Muslim Community (Adedcom) in the southern Catalan city and faces potential deportation after his application for naturalization was denied by police for allegedly being "a radicalized person."
More than a thousand people and entities have signed a letter of support for Said Badaoui, denouncing that the deportation notice he received is an example of institutional racism.
Said Badaoui said that he has submitted appeals against this notice and regrets not having received any response from the ministry. "No one has said anything to me, at any moment my deportation can be signed and become effective," he explained to gathered media at an event in Barcelona this week.
His case dates back to June when he saw that the police had denied him the request for nationality claiming that he was a "radicalized person." Two months later, on August 5, he received a notification that administrative deportation proceedings were being initiated "for migrants who pose a danger to national security." This was justified through "the activism, opinions, and intentions" of Said Badaoui while acting as president of Adedcom.
After presenting appeals on two occasions, he fears that the deportation order could be carried out at any moment. "I haven't been home for two weeks, I don't trust the administration to do justice, it goes against me," he said.
The association leader has admitted that since last week he has been experiencing a lot of "anxiety and distress" as he sees how he can be kicked out of the country "at any time" despite having his life completely rooted here after "living in Catalonia for 30 years," married with children, and where he has a stable job.
"My case is an example of what racialized people suffer, we must talk about the issue," he added.
Social and political support
Mohamed spoke about his case on Monday at the headquarters of the College of Journalists of Catalonia ​​where he was accompanied by several members of a platform created to support him.
Also present was Maria Dantas, an MP in the Spanish Congress for Esquerra Republicana, who, in addition to the letter sent to Marlaska, has announced that the group would carry out other actions such as registering parliamentary initiatives or requesting the appearance of the director general of the police.
"It is not a personal defense, the fundamental rights of people singled out and stigmatized go beyond a single person", she recalled.
According to Dantas, this is a case that could become hugely significant since it has broad support from different groups and entities, and because this time the police action "has been made public."
Members of the platform say cases of institutional racism must be given "visibility" and certain practices must be denounced.
"This machinery ends up criminalizing all Muslim people, whether they are from Spain or Catalonia. It opens the door to an increasingly authoritarian state and gives free rein to fascist discourse, which precisely wants to cut the rights of all people," a spokesperson explained.