Snow falls in Barcelona and along the coast
Collserola peaks overlooking Catalan capital a sea of white, with snow also reaching seaside towns like Castelldefels and Gavà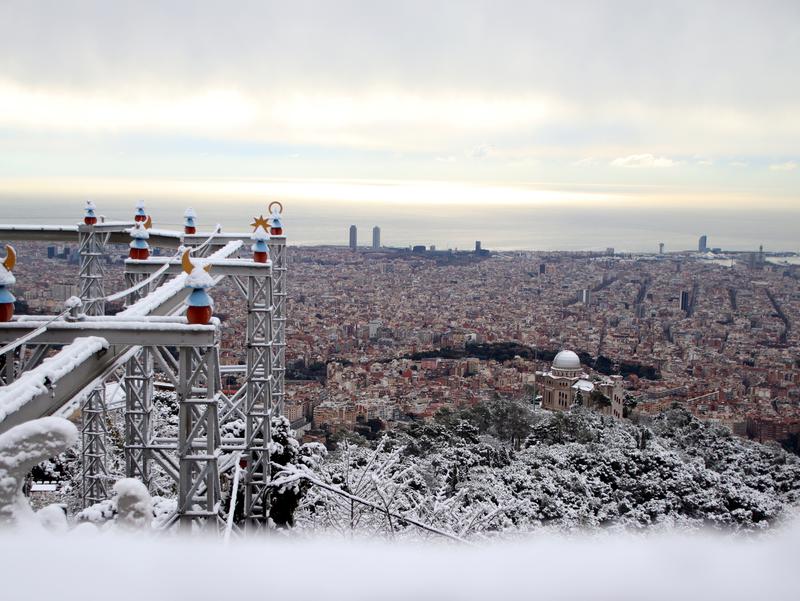 Residents in parts of Barcelona and in several towns along Catalonia's Mediterranean coast woke up to the unusual sight of snow on Monday morning.
Snow covered Tibidabo, the high point (512m) of the Collserola mountain range that overlooks the Catalan capital, and was also visible in high-lying parts of the city.
At the nearby Fabra Observatory, around 7cm of snow fell throughout the night and early morning.
There was heavy snow during Sunday night and Monday morning in areas surrounding Barcelona, such as the cities of Terrassa and Sabadell in Vallès Occidental County and Begues and Viladecans in Baix Llobregat County.
Minimum temperatures dropped well below zero in most of Catalonia overnight. Meteocat (the Meteorological Service of Catalonia) confirmed it was the coldest night of winter so far in several areas.
Local football club Terrassa FC posted a picture of their stadium looking more like an ice rink than a soccer pitch.
The snow even reached coastal areas, such as Castelldefels and Gavà, and some fell in Tarragona, including in the southern city's port, although it did not lie.
Snow continued to fall in coastal areas throughout the morning: in the south, in and around Tarragona and the Ebre Delta, and in the north, in the counties of Baix Empordà, Girona, La Selva and Maresme.