Small town divided over new center for unaccompanied foreign minors
Some in Sant Pere de Vilamajor question decision to host underage migrants, while others have concerns about "stigmatizing" the youngsters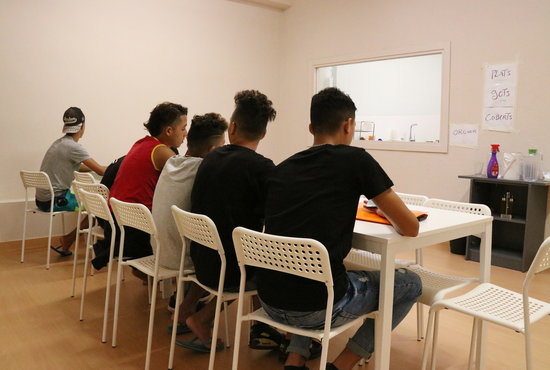 The opening of a new job placement residential center for unaccompanied foreign minors in the small town of Sant Pere de Vilamajor in the county of Vallès Oriental has encountered opposition from some of the locals.
Part of the population in the town of some 4,000 inhabitants argues that the site of the center, close to a high school, is "inadequate," and they fear conflicts could arise between students and the young migrants, as the town does not have its own police station.
"All we have is a dozen municipal security guards who are unarmed and who cannot carry out arrests," say the locals against the center, while other members of the community say the foreign minors must be "destigmatized" and are calling for an open public debate.
Accusations against the council
The locals opposing the center accuse the council of acting "surreptitiously" and making the decision to host it without consulting them first. "We learnt about it when the council posted a statement on its website," said Raquel, one of those questioning the initiative.
For another resident, Isaac, "an unfavorable atmosphere has been created because of the way it has been carried out, because if it had been done transparently and with a willingness to collaborate rather than imposing it, everything would have been fine."
The locals that question the center also ask what work the young migrants can learn in Sant Pere de Vilamajor, which is "a completely residential town." "Most people work in other towns because commercial, industrial and agricultural activity is scarce here," they argue.
Concerns about "stigmatizing" the young migrants
Yet, other locals are concerned about "stigmatizing" the young foreigners, aged between 16 and 21. One resident, Joan, argues for creating "personal neighborly relationships" with the migrants. "We have to try to let them adapt as much as possible," he says.
According to Joan, some residents are organizing a debate to be held next Monday to discuss the issue. "We all have to make the effort to listen because everyone can be right to some extent," he says, warning that the issue could turn into "a witch hunt."
Meanwhile, the Catalan social affairs department and the Eduvic cooperative defend the project and have called on the local population to help integrate the youngsters, which the department says are boys who have already spent up to two years in Catalonia.