Record 1,346 organ transplants in Catalonia in 2022
15 people who died by euthanasia since law passed in 2021 have donated organs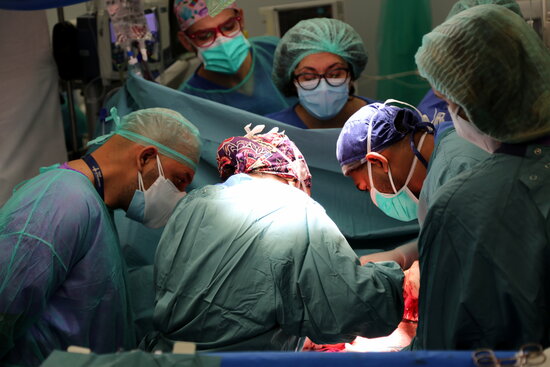 A record 1,346 organ transplants were carried out in Catalan hospitals in 2022, 4% more than the previous high recorded in 2019 and 27% more than in 2021, notably affected by the Covid-19 pandemic.
The figures demonstrate the "level of maturity" the system has, Jaume Tort, Director of the Catalan Transplant Organization (OCATT) said, adding that behind each organ donated lies the generosity of donors and families.
Fifteen people have donated their organs after requesting the provision of assisted dying (PRAM) since the euthanasia law was passed in 2021, making 56 transplants possible.
A record number of pediatric transplants were also carried out, 61 in total.
World-leading transplant rate
Last year's 1,346 organ transplants surpassed the previous record of 1,296, in 2019. Operations were curtailed during the pandemic with 999 transplants in 2020 and 1,063 in 2021.
Catalan hospitals possibly have the highest rate of transplants in the world, according to OCATT, with 173 transplants per million people per year, and an average of 3.7 transplants per day, The organization says that, as each health system has its particularities, it is difficult to compare them definitively.
"The system has arrived at such a high level of maturity that it allows the teams to carry out, in an orderly and quality manner, a very high number of transplants," Tort said as the figures were presented at the Department of Health on Thursday.
Health minister Manel Balcells emphasized the "constant innovation" behind transplants.
The number of heart transplants remained steady at 54 in 2022, while 949 kidney transplants were performed, 28% more than the previous year. There were 203 liver transplants (up 30%), 107 lung transplants (up 26%), and 33 pancreas transplants (up 32%).
The number of kidney transplants at a single hospital broke the 200 barrier for the first time, at both Bellvitge Hospital (224) and Hospital Clínic (223).
Children received a record 61 organ transplants: 24 kidney transplants, 24 liver transplants, 9 heart transplants and 4 lung transplants.
Organ donations increasing
There were a record 178 living donors, all kidney donors, an increase of 23% compared to 2021. Living kidney donors in Catalan hospitals represent more than half of the total across Spain.
A total of 357 people donated organs after they died (deceased donors) in 2022, 24% more than in 2021 and the second highest on record, after 2019 (377).
The percentage of families declining to give consent for donations following a loved one's death fell to just 18%.
Become a donor
Anyone registered in the public health system can become an organ donor by logging into the La Meva Salut website or app and clicking on the "Voluntat i donacions" icon.
They can then click on "Si, vull fer-me donant" and download a pdf of their donor card.