Protests against sentences enter second week
Monday saw more demonstrations around Catalonia, but without the unrest witnessed following imprisonment of independence leaders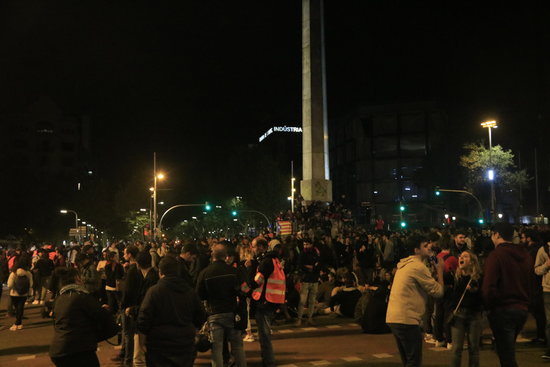 The protests in Catalonia against the sentencing of independence leaders to prison entered their second week on Monday, with a number of demonstrations around the country that were largely peaceful and did not descend into the unrest seen on the streets last week.
In central Barcelona, for example, scores of protesters held an impromptu sit-in near the Spanish government's delegation, which officers of Spain's National Police had already managed to cordon off before the demonstrators arrived.
Around 8.30pm, the Committees for the Defense of the Republic (CDR) group called off its protest outside the interior ministry to demand the resignation of interior minister, Miquel Buch, after some of the 2,700 protesters threw balloons full of paint against a police riot van.
Other objects, such as eggs and glass marbles, were also thrown but did not reach the ministry building, which the Catalan police had cordoned off. After the protest was called off, the protesters began marching through the center but remained peaceful.
March in Sabadell
In Sabadell, near Barcelona, some 500 protesters marched peacefully through the streets calling for the independence leaders to be freed. After police blocked their way to the local tax office, the protesters went on to cut off the Gran Via avenue for about 15 minutes.
During the march, protesters daubed walls, dumpsters and benches with the symbol of the Tsunami Democràtic protest group or yellow ribbon symbols in support of the jailed leaders. The march ended at the 'Wall of Freedom," where weekly protests have taken place.
Prison protest in Tarragonès
Meanwhile, about a thousand people gathered outside the Mas d'Enric prison, in the southern region of Tarragonès, to call for the release of two local people arrested by the Spanish police during a protest in the city of Tarragona five days ago.
In Tarragona, some hundred people gathered outside the Spanish government's sub-delegation to protest the "criminalization" of the young people held in custody in a protest organized by the 'Mares i Pares per la República' group (Parents for the Republic).
Earlier in the evening, a go-slow protest by drivers was organized on social media to condemn the Supreme Court's sentences, causing long tailbacks on the AP-7 highway at Bàscara, in the northern region of Girona, in the direction of France.