Police begin to remove protesters at French border after one night
Tsunami Democràtic had encouraged a three day camp, blocking the AP-7 highway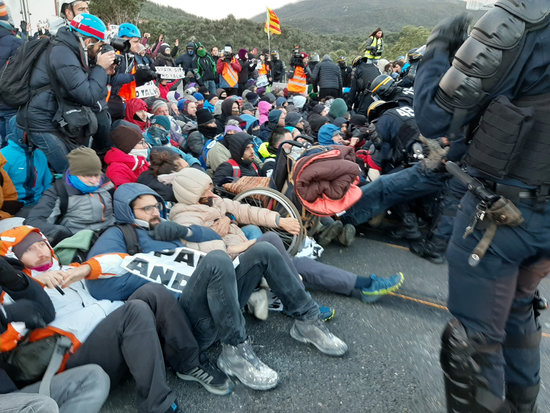 French and Catalan police officials have begun to remove protesters blocking the AP-7 highway at the border between France and Catalonia on the protest's second day.
Pro-independence organization Tsunami Democràtic had encouraged its subscribers to bring food, tents and sleeping bags to camp out for three days.
However on its first day the protest received backlash as it blocked travellers, most notably trucks transporting goods, from crossing the border, creating fears that it would harm the economy.
Police have now begun to remove protesters so that goods may still be transported to and from Catalonia.
Tsunami Democràtic have now urged their followers to blockade the Spanish border with France at Behobia by driving very slowly.
Protesters moved amidst backlash
It looked as if protesters were there to stay - kitchen and toilet facilities, as well as a music stage were set up at the borders, much to the inconvenience of travellers.
Truck drivers described the move as a ''waste of time and money,'' lamenting that ''freedom of expression should not be at the expense of the rest of the world to be able to work and circulate normally.''
Tsunami Democràtic operates through social media outlet Telegram, and to their subcribers urged for three days of ''massive'' protests, their ''most ambitious operation to date.''
The organization was behind the occupation of Barcelona airport immediately after the verdict of the Catalan Trial was announced, in which nine of the independence leaders were given lengthy jail sentences of 9-13 years.
The occupation by the border comes after the November 10 general election, which saw success for Catalonia's independence parties, but once again leaves the future of the State and of the independence crisis up in the air.
Protesters, as they have done before, are urging Spain and Pedro Sánchez to take to the negotiation table to find a democratic solution to the Catalonia independence crisis.