Police ask for public's help in finding father suspected of murdering 2-year-old son
Child found dead in hotel as investigators suggest motive of crime was to 'harm mother'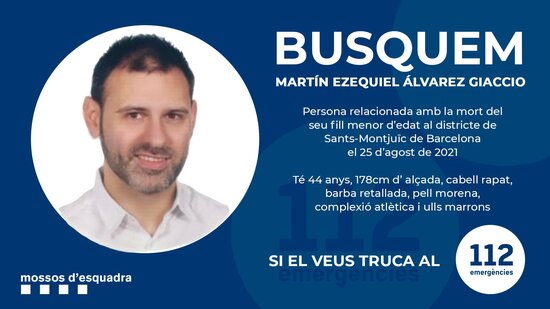 The Catalan police are looking for a 44-year-old man suspected of having killed his two-year-old son on Tuesday evening in a Barcelona hotel.
Mossos d'Esquadra have revealed his full name, Martín Ezequiel Álvarez Giaccio, and a picture of him, in an effort to seek the public's help in finding him.
He is 1.78 m (5 ft 10 in), athletic, olive-skinned, and has a shaved head, trimmed beard, and brown eyes.
He is thought to have escaped the Concordia Hotel, in the Sants-Montjuïc district, after having committed the crime at around 10:30 pm on Tuesday.
Cadena SER station broke the news on Tuesday evening, stating that Álvarez Giaccio and his wife were in the midst of a separation and had sent her messages saying that she would "regret it."
Investigators, along with the Barcelona and Catalonia governments, believe that his motive was to "harm the mother" of the deceased child, in the words of the city's mayor, Ada Colau.