Police arrest 19 protesters so far at French border
Those detained by French police face charges for disrupting circulation on the AP-7 highway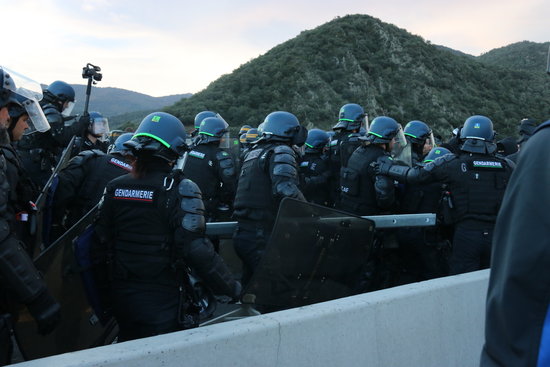 Police officers have arrested 19 protesters blockading the AP-7 highway at the France-Catalonia border.
French police have detained 18, with Catalan police also arresting one. They have beat protesters with sticks as well as using pepper spray.
The 18 detained by French police will be taken to court, and face charges for disrupting circulation on the highway. The route has since been cleared of protesters, who will now head elsewhere.
Protesters were set up for a three-day occupation as per the instruction of pro-independence organization Tsunami Democràtic, who laid out their most ''ambitious action to date'' in blockading the highway via social media outlet Telegram.
The organization, behind the occupation of Barcelona airport on the day that the verdict to the Catalan Trial was released convicting nine independence leaders to 9-13 years behind bars for their role in the 2017 referendum, has since urged its followers to blockade the Spanish border with France at Behobia by driving very slowly.
The protests began on Monday morning and created immediate backlash as travellers were prevented from crossing the border. Those most affected were the Goods Transport sector, as trucks were unable to bring goods into and out of Catalonia.
Drivers described the move as a ''waste of time and money,'' and complained that ''freedom of expression should not be at the expense of the freedom of the rest of the world to be able to work and circulate normally.''
The protests come after Sunday's general election, in which pro-independence parties gained a record number of seats in Congress. Pedro Sánchez did not achieve a government majority however, and will once again need party support to form a government, leaving the future of the Catalonia independence crisis up in the air.
Protesters are urging Spain and Sánchez to head to the negotiation tables to agree on a democratic solution to the issue.