Over 10 arrests in drug trafficking operation involving at least 4 local police officers
Law enforcement agents allegedly collaborated with illegal network of marihuana dealing in Llinars del Vallès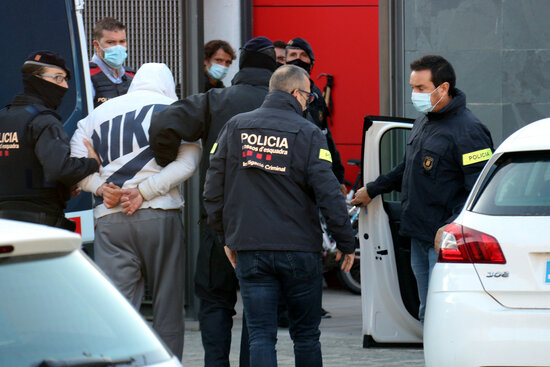 Over ten people have been arrested in an anti-drugs operation in Llinars del Vallès, 40km north-east of Barcelona, including at least four local police officers.
The detentions and raids in 28 locations including Barcelona aim to bring down an illegal network of marihuana trafficking, and the inquiry suspects that four officers of the Llinars local police collaborated with the plot.
The raids took place in sites including the Llinars del Vallès' local police station and a restaurant in the Can Prat industrial estate.
Indeed, one of the police officers involved was injured in a shooting in 2019 where another person died – at that time, sources said that both were talking near a service area on the AP-7 highway, because the man who was killed was a police informant. The officer, who was wearing a bulletproof vest, was injured.
Rumors about the law enforcement agent's involvement in a drug trafficking scheme had been running for a long time in the town. "There was not anything specific that made us suspect," said the superintendent of the local police, Amado Ferreras, who explained that the four arrested accounted for one fifth of the total number of officers.
"This is not pleasant, it generates deep distrust and uneasiness," he added, admitting that the staff is in shock.
"We have to work with proven facts," said Llinars' mayor, Martí Pujol, agreeing with Ferreras in dismissing the rumors.
The local council will suspend the officers if the judge in charge of the inquiry decides to go ahead with the investigation against them after the arrests, and is already working on their replacements.
The town in the Vallès Oriental county was also the site of a New Year's rave, and some sources suggest that the arrested police officer injured in the 2019 shooting could have been linked with the illegal party.