Open Arms: Spain offers safe harbor to rescue ship and 107 migrants stranded in Italy
NGO dismisses offer, calling Algeciras "the furthest port in the Mediterranean"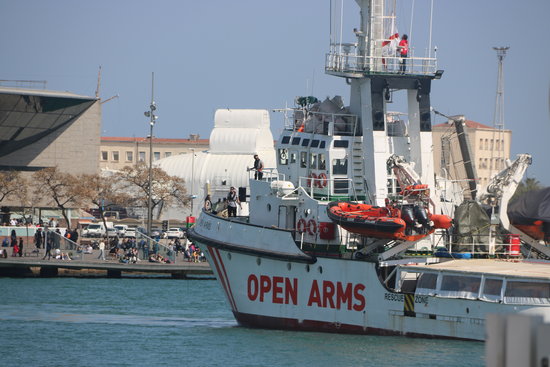 The Spanish government has offered a safe harbor to the Open Arms ship, carrying 107 migrants rescued in the Mediterranean, as Italian ports remain closed to sea rescue NGOs.
After 17 days stranded in the sea, and with worsening health conditions that forced several evacuations in the last days, the Catalan NGO announced on Saturday that it could no longer guarantee the safety of the people on board.
Matteo Salvini, Italy's interior minister and leader of the far-right Lega party, has accused Open Arms of human trafficking and refused to offer a safe harbor—a decision that caused the umpteenth row with head of government Giuseppe Conte.
He indicado que se habilite el puerto de Algeciras para recibir al #OpenArms. España siempre actúa ante emergencias humanitarias. Es necesario establecer una solución europea, ordenada y solidaria, liderando el reto migratorio con los valores de progreso y humanismo de la #UE.

— Pedro Sánchez (@sanchezcastejon) August 18, 2019
"Due to the inconceivable response from Italian authorities, especially from interior minister Matteo Salvini, to close all ports, and the difficulties by other countries in the central Mediterranean, Spain is once again leading the response to a humanitarian crisis," said Spanish president Pedro Sánchez via Twitter on Sunday.
Sánchez offered the port of Algeciras, Spain's southernmost port. Open Arms founder Oscar Camps later criticized the offer: "Do you want us to sail 950 miles, 5 extra days, to Algeciras, the furthest port in the Mediterranean, with an extreme situation on board?"
On Sunday, Open Arms lifeguards rescued several migrants who jumped off the ship and tried to swim to the coast of Lampedusa.
17 días secuestrados en #OpeArms llevamos días avisando. Lo ordenó el Tribunal Adminitrativo Italiano, desembarco y asistencia urgente.@JunckerEU@EP_President#AngelaMerkel@sanchezcastejon
@EmmnuelMacron
¿Que más necesita @matteosalvinimi para su camapaña política?¿Muertos? pic.twitter.com/sFbQw9ahbq

— Oscar Camps (@campsoscar) August 18, 2019