New protests against closures from restaurant sector in Barcelona
Smoke bombs and firecrackers set off, eggs thrown at façade of government HQ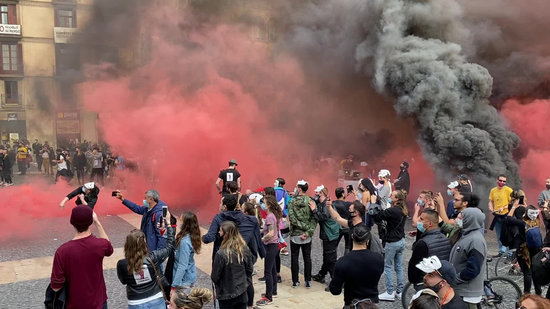 Workers from the restaurant sector again gathered in the center of Barcelona on Wednesday in protest against the ongoing closure of bars, cafes and restaurants.
At around 2 pm, up to 500 people (according to local police), assembled in Plaça Sant Jaume outside the seat of the Catalan government, displaying banners with slogans such as, 'Street drinking isn't nightlife' and 'Restaurant capacity: 0%. Public transport capacity: 120%'.
At one stage, some of the protesters put Anonymous masks on, lit black and red smoke bombs, set off firecrackers, and threw eggs at the façade of the government headquarters.
Protesters dispersed at about 2.45 pm, and about a dozen riot vans then left the scene.
Bars and restaurants were forced to close – except for takeout and delivery services – on October 16 in an attempt to curb the spread of Covid-19. The measure was originally put in place for two weeks but may be extended.
Up to 1,000 bar and restaurant owners and staff protested in Plaça Sant Jaume on the first day of the shutdown.